Trump's Aides Have Apparently Taken Twitter Away From Him In Final Days Of Campaign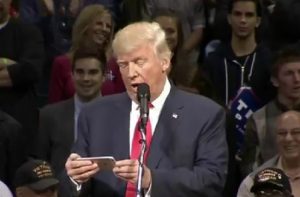 The New York Times published an extensive profile of Donald Trump's campaign during the stretch run towards Election Day, showing the inner workings as his team deals with expanding the electoral map and responding to breaking news regarding the James Comey letter.
While one revelation that came from the story was that Trump doesn't like spending on digital ads because he doesn't use a computer, another more shocking disclosure came through in the piece.
Donald Trump has had Twitter taken away from him by his campaign staff.
Apparently, in the wake of the Comey story, his team wanted to make sure Trump would stay on message and not use his social media account to distract from the obviously bad news for Hillary Clinton. Therefore, they "deployed a series of creative tricks" to keep him from being his own worst enemy.
And one of those tricks was keeping him off his phone and tweeting away unsupervised.
Taking away Twitter turned out to be an essential move by his press team, which deprived him of a previously unfiltered channel for his aggressions.

On Thursday, as his plane idled on the tarmac in Miami, Mr. Trump spotted Air Force One outside his window. As he glowered at the larger plane, he told Ms. Hicks, his spokeswoman, to jot down a proposed tweet about President Obama, who was campaigning nearby for Mrs. Clinton.

"Why is he campaigning instead of creating jobs and fixing Obamacare?" Mr. Trump said. "Get back to work." After some light editing — Ms. Hicks added "for the American people" at the end — she published it.
Here is the tweet in reference:
Looking at Air Force One @ MIA. Why is he campaigning instead of creating jobs & fixing Obamacare? Get back to work for the American people!

— Donald J. Trump (@realDonaldTrump) November 3, 2016
Just from a general perusal of his Twitter account, one can see it has now taken the form of a more professional campaign-like account rather than the personal one that Trump has used shoot out hundreds of insults and abuses this election season.
For the most part, all you see now are announcements of events, thank yous, links to favorable articles and occasional retweets.
[image via screengrab]
–
Follow Justin Baragona on Twitter: @justinbaragona
Have a tip we should know? tips@mediaite.com