Trump's Upset Over Campaign Spending On Digital Ads Because He Doesn't Use a Computer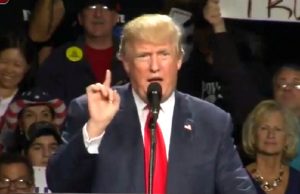 Two days before Election Day, the New York Times published an extensive look at Republican presidential nominee Donald Trump's campaign down the stretch run.
While much of the profile covered the tough electoral road ahead, his reactions to polls, his need for assurance that his candidacy is on track for a victory and so forth, one thing stood out that showed a certain generational gap with the GOP candidate.
Mr. Trump's campaign is no longer making headlines with embarrassing staff shake-ups. But that has left him with a band of squabbling and unfireable advisers, with confusing roles and an inability to sign off on basic tasks. A plan to encourage early voting in Florida went unapproved for weeks.

The result is chaotic. Advisers cut loose from the campaign months ago, like Corey Lewandowski, still talk to the candidate frequently, offering advice that sometimes clashes with that of the current leadership team. Mr. Trump, who does not use a computer, rails against the campaign's expenditure of tens of millions on digital ads, skeptical that spots he never sees could have any effect.
Yep. Apparently, because the real estate mogul himself doesn't use a computer, he doesn't understand why his campaign should spend cash on ads that he will not see.
The odd thing here, and something that should stand out to everyone, is the fact that part of Trump's appeal and the reason he has been able to run a relatively bare-bones campaign is his outsized social media presence.
Currently, Trump has over 13 million Twitter followers and 12 million likes on Facebook. An active tweeter, he's sent nearly 34,000 tweets since joining the social media network.
[image via screengrab]
–
Follow Justin Baragona on Twitter: @justinbaragona
Have a tip we should know? tips@mediaite.com