TX Attorney General Won't Say if He'd Have Defended Interracial Marriage Ban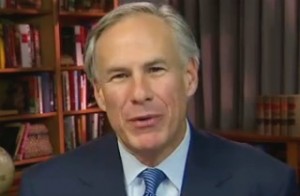 When you're 10 points up in the polls, you get a little YOLO.
During a meeting with the San Antonio Express-News editorial board, Texas Attorney General and Republican nominee for governor Greg Abbott declined to answer the board's hypothetical about whether he would have defended a law banning interracial marriage. Per the Express-News' Peggy Fikac:
"Right now, if there was a ban on interracial marriage, that's already been ruled unconstitutional," Abbott pointed out. "And all I can do is deal with the issues that are before me … The job of an attorney general is to represent and defend in court the laws of their client, which is the state Legislature, unless and until a court strikes it down."

When I said I wasn't clear if he was saying he would have defended a ban on interracial marriage, he said, "Actually, the reason why you're uncertain about it is because I didn't answer the question. And I can't go back and answer some hypothetical question like that."

Asked about the similarities some see between the ban on gay marriage and past prohibitions on interracial marriage, Abbott said, "Well, the Supreme Court has disagreed with that" by holding that sexual orientation isn't due protected-class status in the way that race is.
He added that an attorney general decided which laws to enforce (or how strictly he or she would pursue upholding them against legal challenge) would amount to "dictatorship by attorney general."
Abbott recently filed an amicus brief to the Fifth Circuit of Appeals arguing that a ban on same-sex marriage was necessary for the "survival of the human race."
The Express-News endorsed Democratic opponent Wendy Davis, who is nonetheless expected to lose to Abbott in the election next month.
[h/t San Antonio Express-News]
[Image via screengrab]
——
>> Follow Evan McMurry (@evanmcmurry) on Twitter
Have a tip we should know? tips@mediaite.com