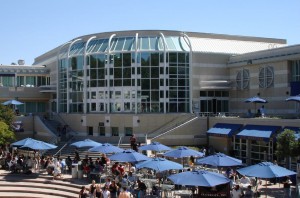 The San Diego ACLU filed suit against the University of California-San Diego after the school defunded a satirical student paper that mocked the concept of "safe spaces" and "trigger warnings."
"UCSD Unveils New Dangerous Space on Campus," The Koala joked in November of 2015. "Not only will this new dangerous space allow people of all ethnicities and sizes – even unnaturally large sizes – it will allow for knifes, guns, opinions that might be different than yours, drug paraphernalia, sharp writing instruments, and explicit pornography," they wrote.
The student paper punctuated its point by including endorsements of necrophilia and a "no-blacks rule," and frequent use of racial slurs. While satirical, it outraged students and led the administration to issue a press release declaring, "The Koala is profoundly repugnant, repulsive, attacking and cruel." A week later, the student government voted to defund all student publications, including The Koala.
As a state school, UC-San Diego is bound by the First Amendment protecting the right to free speech and freedom of the press. Accordingly, the ACLU filed suit claiming The Koala's rights were violated.
"The student government violated the First Amendment in two ways," the ACLU argued in a press release. "First, it targeted the student press by stripping it of revenue that remains available to support other student speech. Second, it retaliated against the editorial viewpoint of The Koala, an action that is not immunized by inflicting collateral damage on all student media."
"However offensive and outrageous The Koala may be, its authors are writing about topical issues of public concern, and it is classic protected speech," said legal director David Loy. "No matter how offended I may be, it is still much worse to give government the power to decide what speech to censor."
——
>>Follow Alex Griswold (@HashtagGriswold) on Twitter
Have a tip we should know? tips@mediaite.com