Ugandan Newspaper Publishes Names And Addresses Of 100 Gay Men With The Banner 'Hang Them'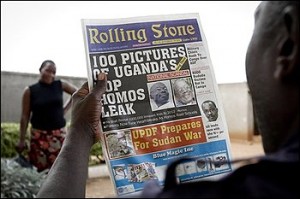 This is truly disgusting. A Ugandan newspaper called Rolling Stone (obviously no relation to the American version) recently published a front page story entitled 100 Pictures of Uganda's Top Homos Leak with a bright yellow banner instructing readers to "Hang Them." Inside, the paper published pictures, names, and addresses of the men. Since it was published on October 9th, "at least four gay Ugandans on the list have been attacked and many others are in hiding."
From The Washington Post:
"The paper's managing editor, Giles Muhame, said the article was 'in the public interest.'

'We felt there was need for society to know that such characters exist amongst them. Some of them recruit young children into homosexuality, which is bad and need to be exposed,' he said. 'They take advantage of poverty to recruit Ugandans. In brief we did so because homosexuality is illegal, unacceptable and insults our traditional lifestyle.'

Members of the gay community named in the article faced harassment from friends and neighbors. Onziema said the proposed bill already has led to evictions from apartments, intimidation on the street, unlawful arrests and physical assault."
The proposed bill mentioned in that quote above was the legislation created a year ago by parliamentarian David Bahati which would have enacted death penalties for certain homosexual acts. After an international outcry, the bill was struck down. However, the Associated Press reports that attacks and harassment of gays greatly increased in the year following the bill's introduction.
Gay groups are planning on suing Rolling Stone which had to cease publication until they had registered with the government but will soon be up and running again.
(photo via the Associated Press)
Have a tip we should know? tips@mediaite.com