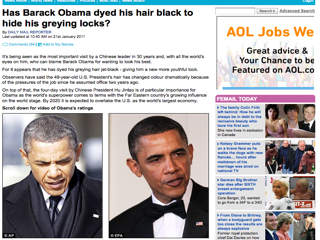 For better or worse, the scope of the word "celebrity" appears to ever be expanding, and while it's common to see it used nowadays for people in YouTube videos or reality TV stars, watching our president get the celebrity treatment will never not be bizarre. The latest celebrity treatment Barack Obama is unfortunate enough to be getting comes from the UK's Daily Mail, who dare ask whether the President's "new" hair color is synthetic.
Well, at least the President can take comfort that it wasn't TMZ or Perez Hilton this time– the Daily Mail has the latest story on the President's hair, and suspicions that its color is no longer natural. Where did his new "jet-black" "locks" come from, the writer muses. In an attempt to make the story somewhat relevant to, well, anything, they also note in several non-sequiturs the importance of the relationship between the United States and China, and that "by 2020 [China] is expected to overtake the U.S. as the world's largest economy." The abrupt shift from the stylistic to the economic leaves the impression that the President's new hair, if it is new hair, is some sort of sign to the Chinese government that America is still alive and kicking.
So what sources, exactly, corroborate the assumption that President Obama has taken to a stylist? Well, for one, the Daily Mail cites "observers." And that's it. They also contrast a photo of the President taken in broad daylight a week before the Chinese state dinner with one taken indoors on that occasion. Yes, the President's hair looks darker, but so does his skin, his outfit, and the entire room.
At the very least, if this is the depths of sinister rumor-mongering to which the celebrity-obsessed media will go against the president, he has little to worry about. It's when they start criticizing handbag choices that he should really start to worry.
[h/t Wonkette]
Have a tip we should know? tips@mediaite.com