Uma Thurman Opens Up on Nightmarish Weinstein Experience: 'He Tried to Expose Himself'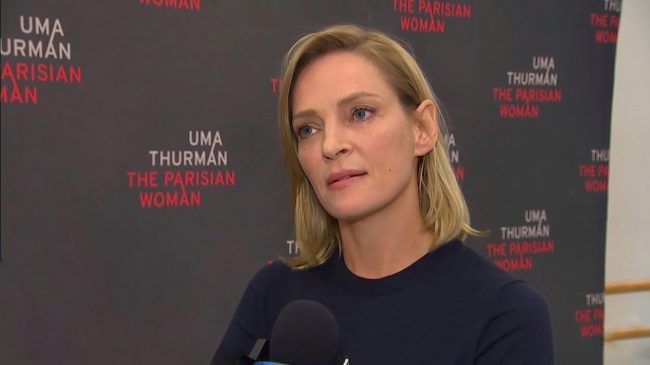 Last fall at a red carpet event, Pulp Fiction star Uma Thurman was asked to comment on the Harvey Weinstein scandal and the women who had come forward to accuse the movie mogul of sexual harassment and assault. After saying she found their actions "commendable," she then spoke with barely controlled rage, stating that when she speaks in anger she usually regrets the way she expresses herself, obviously referencing her own Weinstein experiences. She finished with this: "And when I'm ready, I'll say what I have to say."
She followed that up a few weeks later with an Instagram message stating that she was grateful to all those who have stood up and that she felt it was important for her to take her time and be exact with what she had to say. She also let Weinstein know that he didn't "deserve a bullet" while wishing a happy Thanksgiving to all except him and his conspirators.
In an interview with New York Times' columnist Maureen Dowd that was published this morning, Thurman finally opened up about her hellish experiences with Weinstein. And judging from what she had to say, one can see why she is so angry.
After revealing that Weinstein had done the "bathrobe" thing with her in Paris already, Thurman then pointed out that the powerful movie producer tried to force himself on her in a London hotel:
The first "attack," she says, came not long after in Weinstein's suite at the Savoy Hotel in London. "It was such a bat to the head. He pushed me down. He tried to shove himself on me. He tried to expose himself. He did all kinds of unpleasant things. But he didn't actually put his back into it and force me. You're like an animal wriggling away, like a lizard. I was doing anything I could to get the train back on the track. My track. Not his track."

She was staying in Fulham with her friend, Ilona Herman, Robert De Niro's longtime makeup artist, who later worked with Thurman on "Kill Bill."

"The next day to her house arrived a 26-inch-wide vulgar bunch of roses," Thurman says. "They were yellow. And I opened the note like it was a soiled diaper and it just said, 'You have great instincts.'" Then, she says, Weinstein's assistants started calling again to talk about projects.
The Kill Bill star let Dowd know that after that awful encounter, she saw Weinstein to confront him on his attempted assault. Thurman said she warned Weinstein that if he did that to other actresses his career would be over but she couldn't remember anything else from that conversation. A friend of Thurman's explained that Thurman came down from the meeting extremely upset and "had this blank look." When Thurman was able to speak again, she let the friend know that Weinstein "threatened to derail her career."
The piece is an absolute must-read as it also highlights some extremely troubling incidents with director Quentin Tarantino. Check the whole thing out here.
[image via screengrab]
—
Follow Justin Baragona on Twitter: @justinbaragona
Have a tip we should know? tips@mediaite.com