Un-Rolling Stone: Ebony Magazine Releases Four September Covers Honoring Trayvon Martin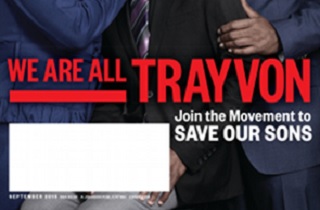 Just weeks after Rolling Stone magazine dazzled America with its cover of Boston Marathon bomber Dzhokhar Tsarnaev, Ebony magazine has devoted its cover to a far worthier subject, paying tribute to slain Florida teenager Trayvon Martin with four separate covers. The first features Trayvon's mother Sybrina Fulton, father Tracy Martin, and brother Jahvaris Fulton. The other three feature, respectively, actor Boris Kodjoe and his son, NBA star Dwayne Wade and his two sons, and director Spike Lee and his son, all clad in hoodies, with a banner that reads "We Are Trayvon."
Here's a bit of Ebony's announcement of its tribute covers:
It's hard to believe that it was only 18 months ago that we lost Trayvon Martin. In the explosive time since that fateful night, February 26, 2012, generations of Black America have come to terms with the fact that we live in a country that often eats its young—our young.

To be 17, Black and male, specifically, is tantamount to a crime, so said the actions of a certain George Zimmerman, Trayvon's killer. After an emotional trial in the state of Florida, so too, it seems, said a jury of Zimmerman's peers.

African-Americans across the country clenched their hearts at the news of Zimmerman's acquittal. Our president—a man who could have been Trayvon's father—spoke plainly about the pain of racial profiling and the injustices faced by Black males in this country.

What now? What now?
The editors invite readers to pick up the September issue, available now, to read in-depth coverage of the George Zimmerman trial and its aftermath. Here are the four September, 2013 Ebony covers:
[imageviewer id=781]

Meanwhile, Rolling Stone, who reasoned that the Boston Marathon bomber deserved their cover because he was "young, and in the same age group as many of our readers, makes it all the more important for us to examine the complexities of this issue and gain a more complete understanding of how a tragedy like this happens," has yet to even mention Trayvon Martin's killing on its cover. Here are Rolling Stone's covers since Trayvon's killing, including the latest featuring Bruce Springsteen's 24th cover appearance.
Have a tip we should know? tips@mediaite.com