Valerie Jarrett Should Leave White House to Be a Librarian, Says Politico Piece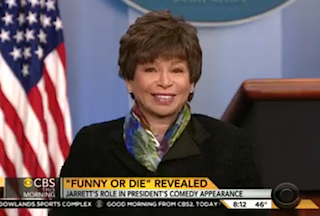 Out of all the people in the Obama administration, the most controversial figure is probably senior adviser and longtime Obama friend Valerie Jarrett.
Jarrett isn't controversial for the same reason as other White House personnel, like former Chief of Staff Rahm Emanuel and Attorney General Eric Holder. Those men are controversial for their combative approach to their respective jobs. Jarrett is controversial for mystical reasons– her unclear responsibilities, her coziness with the Obamas and her peculiar photo frames.
Carol Felsenthal, a political blogger, writes in a recent Politico Magazine piece that President Obama, with his White House in a certain rut, should fire Jarrett.
How, though, would Obama do that? He and Jarrett are too close, Felsenthal says. But Fesenthal has the solution:
There's a role that perhaps Valerie Jarrett was born to fill: The Obama librarian. Having written a book about Bill Clinton's post-White House years, I followed Clinton's work on his library—his legacy—during his final two Monica Lewinsky-scarred years in the White House. The more he felt marginalized—as Obama was during the midterms and increasingly will be in the run-up to the 2016 presidential race—the more Clinton clung to his library plans. His library became the focus of his life, and a kind of comfort as he braved the humiliation of impeachment and the exposure of his sad sex life with an intern.

So, the library. People in Chicago believe Valerie means to run it, whether it's in Chicago—probably at the University of Chicago—in New York at Columbia University, one of Obama's alma maters, or in Hawaii. (I've been told, never for attribution, that Valerie favors Columbia because, as she has told the Obamas, it will be so much fun for them all to live in New York.)
To recap: Felsenthal thinks Jarrett should make a smooth transition from White House senior staffer to librarian.
Probably not happening.
[Photo via CBS/screen grab]
— —
>> Follow Eddie Scarry (@eScarry) on Twitter
Have a tip we should know? tips@mediaite.com