Vanity Fair Asks 'How Did We Get Stuck With Piers Morgan,' And 'Is He Returnable?'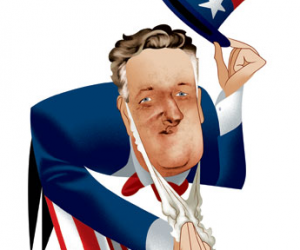 Here's a glossy magazine profile that may not make it to the walls of Piers Morgan's office at CNN, James Wolcott's It's Morgan in America, which asks "how did we get stuck with Piers Morgan? Who is he, why is he here, is he returnable?"
What follows is an extensive exploration of Morgan's career, and an analysis of Piers Morgan Tonight, before wandering off into a discussion of Sarah Palin, Kate Gosselin and the 2012 elections. On PMT, Wolcott makes the assertion that as an interview show, Larry King Live was campy but compelling, and Piers Morgan Tonight isn't:

Where Larry King Live served it up hot and crazy from the grill, Piers Morgan Tonight was handing out canned hams.
Wolcott's chief complaint with Morgan's interviewing is a tendency to fawn over his guests, rather than produce surprising moments (you know, being dangerous). But Wolcott's not quite ready to label Morgan a failure, especially not with his tireless drive to push the show to success across every media platform known to man:
Who is to say he won't succeed? I, for one, have learned never to bet against naked unadulterated shameless relentless ambitious careerism that can eat through steel wool (so many examples come to mind!). Morgan's use of Twitter and other social-network platforms boosted CNN's youth demo in its initial weeks, manna to advertisers.
Then again, knowing Morgan, he might just love this story and be having it framed for the office wall as we speak. He'll certainly tweet about it, as his executive producer Jonathan Wald did today, answering the author's 'is he returnable' question with a quick "Um, no. Next Q?"
Have a tip we should know? tips@mediaite.com