Veteran Journalist on Limbaugh: Dems Shouldn't Be in Business of 'Trying to Shut People Up'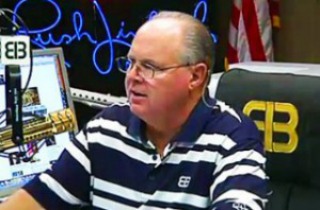 Conservative radio talker Rush Limbaugh has found a handy defender in his corner against recent attacks from the Democratic Congressional Campaign Committee.
Michael Miner, a veteran journalist who now writes for the Chicago Reader, wrote Thursday that the DCCC's petition to have Limbaugh's show forced off the air is a misguided one.
"The Democratic Party shouldn't be in the business of trying to shut people up," Miner wrote. "And it shouldn't play the game of pretending to try to shut people up. I think the DCCC likes Limbaugh right where he is—a noisy, right-wing boogeyman the Dems can point to a few weeks before national elections to scare progressives into saddling up."
The DCCC started the petition after Limbaugh on his show last week said "'no' means 'yes,' if you know how to spot it," in a commentary on sexual assault.
Miner wrote in his column that he received the petition but wouldn't be adding his signature to it.
"This petition drive won't cost Limbaugh sponsors and the Dems know it," he writes, "it won't tell the sponsors anything they don't already know about who Limbaugh is and what he does and which people he drives crazy."
An unnamed "Democratic campaign strategist" aired a similar sentiment to Politico. "Using rape to build lists is just wrong, and they'd slam any Republican doing it," the strategist told Politico. "Limbaugh's comments are disgusting, and should be called out, but this is the wrong way of doing it."
More from Miner's column:
Freedom of speech, put simply, is the freedom to have your say—and then accept the consequences. The consequences could be a libel suit. They could be a petition designed to drive you from the airwaves. Ideally, however—and I try hard to be an idealist on this topic—the consequences are someone else saying why you're wrong in a voice equal to your own. Maybe no one voice has been the equal of Limbaugh's, but collectively his big yap has gotten a run for its money.
[Photo via Rush Limbaugh/screen grab]
— —
>> Follow Eddie Scarry (@eScarry) on Twitter
Have a tip we should know? tips@mediaite.com