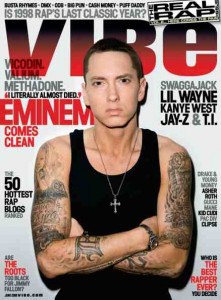 Vibe Media Group Chief Financial Officer Angela Zucconi confirmed that Vibe, the once popular hip-hop and urban culture magazine founded by Quincy Jones, is shutting down. Most of the company's 50 or so employees will be laid off.
While Vibe's folding comes during an historic ad recession across all media that has left many categories of magazines struggling, music magazines seem to be particularly vulnerable because of the meteoric rise of online music stores and blogs that allow users to listen to the music that is being reviewed. Earlier this year Blender magazine was shut down, and one can only wonder which titles in this category could be next:
SPIN – the one-time sister to Vibe (when it was sold from founder Bob Guccione, Jr. to former Time Inc. exec Bob Miler) appears to be most at risk. Recently sold for less than US$5 million to a San Francisco-based company called The McEvoy Group LLC (which also owns Chronicle Books,) it's hard to imagine SPIN making through the year unless it receives a major investment or is acquired by a larger publishing concern (unlikely.) Odds of surviving one more year – 4 to 1.
Complex – the media tendency of Marc Ecko has outperformed its competitors, in large part due to an aggressive sponsored content online strategy and the remarkable reach of Mark Ecko Enterprises, which includes the once popular brands of Avirex, G-unit, and Marc Ecko Cut & Sew. Whispers of insurmountable debt (rumored to be upwards to $160 Million) have caused many to question how much longer Ecko will be in business. Still, Complex Media is a nifty, profitable little business, which will likely be spun off in an effort to pay off his debt. Odds of surviving one more year – 5 to 2.
FADER – Sort of the little magazine that could, FADER established itself as an alternative to the tradional music magazines when it was founded in 1998 by Rob Stone and Jon Cohen. They have wisely diversified their network, and have a very strong presence online with multiple niche websites such as thefader.com, FADER films, FADER label, rcrdlbl.com, XLR8R, XLR8R.com, thetripwire.com and 1200squad.com. It's this online reach that puts FADER in a better spot than most. Odds of surviving one more year – 3 to 2.
Rolling Stone — The Granddaddy of them all, Rolling Stone was once the cash machine that fueled the remarkable growth of Wenner Media, as well as the influence and power of its founder Jann Wenner. But how times have changed — in today's market place, it the one-time fledgling baby sister US Weekly that is helping keep Rolling Stone afloat. While Wenner was early on the Internet front, RollingStone.com has had little impact on the digital music front. In fact, the most noteworthy editorial to come from this title have been its political coverage, which remains top-notch and noteworthy. Odds of surviving one more year – 1 to 1.
Have a tip we should know? tips@mediaite.com
Colby Hall - Founding Editor