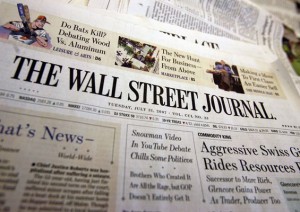 The Wall Street Journal is seeking to open a local news desk in New York City, to be staffed by around "a dozen reporters," according to a report today by the New York Times Media Decoder blog. The announcement, as pointed out by Fishbowl NY, comes just days after the Rupert Murdoch-owned financial paper decided to shutter its Boston bureau, laying off nine employees.
Plans to start a New York edition were announced over the summer by the Journal, with arts coverage as a focus. At the time, the New York Observer noticed Murdoch's desire to have the New York Times in his crosshairs:
When he spoke about the culture section, he took a swing at a familiar foe, The New York Times. He said that The Times' coverage was lightweight and uninteresting, according to two people present. Mr. Murdoch said if The Journal could strengthen its culture coverage, it would be easy to pluck off Times readers and advertisers.
Today, the Times took note of a similar motivation:
It also reflects Rupert Murdoch's mandate to make The Journal more of a general-interest newspaper, and a more direct competitor to The New York Times. Since Mr. Murdoch's News Corporation bought The Journal almost two years ago, it has pushed business news, its traditional staple, farther back into the paper, while adding new features like sports coverage.
Interesting as it is to see the Times report on itself and its competitors, the real takeaway from today's news seems to be the mere existence of journalism jobs. And not just with Politico!
Have a tip we should know? tips@mediaite.com