WaPo Columnist Fails Religion 101, Thinks Cruz Literally Wants Jesus's Dead Body to Endorse Him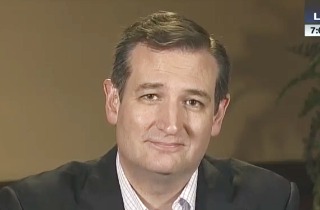 If The Washington Post column Kathleen Parker is to be believed, Republican Ted Cruz said in a speech recently that Jesus Christ should rise from the grave and support his presidential bid.
Parker made the comments on CNN's Anderson 360:
This seems to have slipped through the cracks a little bit, but Ted Cruz said something that I found rather astonishing. He said, you know, it's time for the body of Christ to rise up and support me. I don't know anyone who takes their religion seriously who would think that Jesus should rise from the grave and resurrect himself to serve Ted Cruz. I know so many people who were offended by that comment.
Now, perhaps Parker does have friends who were offended by Cruz's remarks. But I find it hard to believe there are that many Christians who are so completely illiterate about the terminology of their own religion.
Parker is actually quoting a common campaign line of Cruz's when he's speaking to Christian audiences. Here's what he said in a conference call with pastors: "If we awaken and energize the Body of Christ– if Christians and people of faith come out and vote our values– we will win and we will turn the country around."
For the uninitiated, "Body of Christ" is an extremely common term used to refer to the Christian Church at large. The term derives from 1 Corinthians 12:
"Just as a body, though one, has many parts, but all its many parts form one body, so it is with Christ. For we were all baptized by one Spirit so as to form one body—whether Jews or Gentiles, slave or free—and we were all given the one Spirit to drink. Even so the body is not made up of one part but of many."
So did Cruz really ask Jesus to physically rise from the grave to help his campaign? No, he was rather benignly asking Christians to turn out and vote. I would hazard a guess and say that even most non-Christians would understand what Cruz was saying. A Pulitzer Prize-winning columnist working for a major national paper did not, and neither apparently did her friends.
I would also guess that even non-Christians would immediately recognize that an outspoken evangelical like Cruz would never say that Jesus should "rise from the grave and resurrect himself," given that Christians believe Jesus hasn't been dead and buried for nearly 2,000 years. We have a whole holiday about it. It's kinda the basis of our entire religion, actually.
By the way, Mediaite has obtained the titles of Parker's next three columns:
"Ted Cruz says he prays to God's pet. Who is this mysterious 'Lamb of God?'"
"Pope demotes himself, declares he is now Bishop of Rome."
"Are Jewish 13-year-olds getting drunk? An investigation into the underground Bar Mitzvah."
[h/t GetReligion]
[Image via screengrab]
——
>>Follow Alex Griswold (@HashtagGriswold) on Twitter
This is an opinion piece. The views expressed in this article are those of just the author.