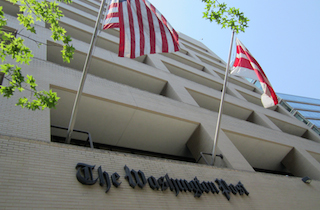 The Washington Post ed board is beside itself at what it sees as the GOP's insistence on prying a shutdown defeat from the jaws of victory.
With only a few days before the Department of Homeland Security's funding expired, Republicans still insist that a spending bill contain riders defunding President Barack Obama's executive orders on immigration, a bill that can't pass the Senate. Meanwhile, a federal judge placed a hold on Obama's recent delaying of deportations, essentially rendering the GOP's objection moot and giving them an out — which, the Post board pointed out in exasperation, the party has refused to take.
"It's hard to grasp the logic that would impel GOP lawmakers to suspend funding for the gigantic department when the move that inspired their threat in the first place — President Obama's executive action shielding millions of illegal immigrants from deportation — has been put on hold," the board wrote Monday evening. "The answer, it seems, is that the fervor of Republican partisanship, especially in the House, is immune to logic beyond an insistence on victory at any cost — the cost in this case being the imminent shutdown of a critical chunk of the federal government."
The GOP's shutdown antics in the fall of 2013 backfired on the party, which usually is assigned blame for government shutdowns. Polls indicate the party would again take the brunt of the blame if the DHS shuts down at the end of the month, which would furlough thousands of employees.
"On taking control of both houses of Congress, Republican leaders pledged to avoid further government shutdowns," the board concluded. "They then set precisely the opposite course — a course seemingly designed to prove they are incapable of governing."
Senate Majority Leader Mitch McConnell (R-KY) is attempting to do what the Post board recommended, proposing to isolate the funding bill from votes on the immigration orders.
[h/t Washington Post]
[Image via Wikipedia]
——
>> Follow Evan McMurry (@evanmcmurry) on Twitter
Have a tip we should know? tips@mediaite.com