WaPo: Obama's Military 'Restrictions' in ISIS War 'Not Compatible with the Objectives'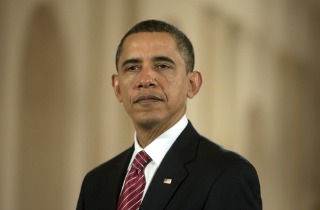 The Washington Post on Wednesday editorialized that President Barack Obama's strategy to fight elements of the Islamic terrorist network ISIS in Iraq and Syria is proving ineffective.
Obama, with the help of some other countries, including Arab nations, has authorized military airstrikes against ISIS but has held firm that no ground troops will be used in the fight.
Following reports that ISIS has captured more territory in Iraq, the Post wrote:
Why can't the U.S.-led coalition prevent a ragtag insurgent army from overrunning large towns? The answers speak to the limitations imposed on the military campaign by President Obama as well as the continuing political complications of fighting the Islamic State. Military analysts point out that U.S. strikes on Islamic State forces around Kobane have come late and in small handfuls — not enough, as of Tuesday, to turn back thousands of fighters armed with tanks and artillery. In contrast with the successful 2002 air campaign against the Taliban in Afghanistan, U.S. pilots cannot rely on Special Forces spotters to identify targets. Mr. Obama has ruled out such ground personnel despite requests from military commanders. …

For now, the U.S. operation in Iraq and Syria is defined mainly by its limitations. The restrictions Mr. Obama has imposed on his commanders are not compatible with the objectives he has asked them to achieve.
In early September, the Post also called on Obama to "stop attempting to minimize" ISIS.
[Photo via Shutterstock]
— —
>> Follow Eddie Scarry (@eScarry) on Twitter
Have a tip we should know? tips@mediaite.com