WaPo's Dana Milbank to Fulfill Promise to Eat Column if Trump Wins Nomination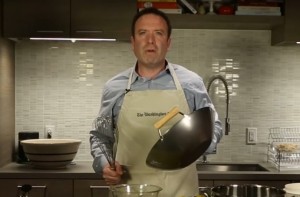 After Dana Milbank promised in The Washington Post to eat a print copy of his column if Donald Trump won the nomination, Milbank assured readers that yes, he would keep his word.
"Trump will lose, or I will eat this column," Milbank wrote in October, saying, "I'm so certain Trump won't win the nomination that I'll eat my words if he does. Literally: The day Trump clinches the nomination I will eat the page on which this column is printed in Sunday's Post. I have this confidence for the same reason [Mitt Romney] does: Americans are better than Trump."
Americans, as it turns out, were not better than Trump. So Milbank and The Washington Post put out a video the day after the Indiana primary to announce that he would keep his promise.
"I sent out a call for your favorite recipes for eating newspaper and you came through on Facebook, Twitter, in the comments section and in emails," Milbank said while in a kitchen dressed in a WaPo apron. "Through this form of crowd-sourcing, we found that not only can it be palatable to eat newspapers, it can be downright mouthwatering."
Milbank announced that a week later on May 12, he would eat the best of the newspaper recipes as prepared by DC chef Victor Albisu. WaPo food critic Tom Sietsema will also be on hand to judge the best way to eat one's words.
Watch above, via The Washington Post.
[Image via screengrab]
——
>>Follow Alex Griswold (@HashtagGriswold) on Twitter
Have a tip we should know? tips@mediaite.com