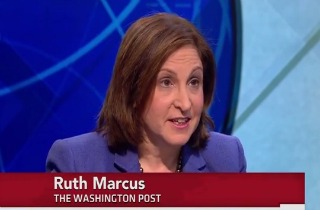 Washington Post liberal columnist Ruth Marcus was not moved by Monica Lewinsky's decision to speak publicly this week about her role as the mistress in former president Bill Clinton's extramarital affair of the late 1990s.
In her new column, Marcus says Lewinsky's reemergence, which featured an anti-cyber bullying speech at a Forbes event, was "awkward." And of Lewinsky's claim that she was destroyed by conservative blogger Matt Drudge (who broke the news of the affair) and, ultimately the Internet, Marcus says that's not true.
From Marcus' op-ed:
"Overnight, I went from being a completely private figure to a publicly humiliated one. I was Patient Zero," Lewinsky said in a speech Monday to Forbes's Under 30 Summit in Philadelphia. "The first person to have their reputation completely destroyed worldwide via the Internet."

Lewinsky's "Patient Zero" claim is more than a little overblown. Even without the medium of the Internet, without the Drudge Report to break the news on the Web or dial-up connections to let readers access the Starr report in all its detail, the story would have emerged, and it would have been huge.
Whether the Clinton-Lewinsky affair would have ever actually emerged is debatable but it's clear Marcus didn't get much out of Lewinsky's self-reprisal.
Marcus did have one semi-nice thing to say, though. "Simply going public may be Lewinsky's greatest service," she wrote. "A parent trying to comfort a teenager victimized by cyberbullies can point to Lewinsky and say: If she can survive, so can you."
Marcus: See the woman who had sexual relations with a married president? If she survived the consequential online slut-shaming, so can you, kids.
[Photo via screen grab]
— —
>> Follow Eddie Scarry (@eScarry) on Twitter
Have a tip we should know? tips@mediaite.com