UPDATE: Washington Post Columnist Anne Applebaum's Car Did Not Explode; Sorry Russia!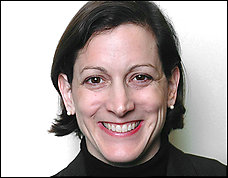 International journalist and author Anne Applebaum has been placed under police guard after the engine of her car mysteriously exploded, the Times UK is reporting. In something straight out of a spy thriller — or Hollywood's understanding of reporting — the writer was driving through Warsaw, Poland when she noticed "a strange noise" and got out to investigate, only to have the insides of the vehicle blow up. (UPDATE: Apparently it was just a simple case of car trouble, exploited by the Polish tabloids. Oh… uh, and the blogs. Sorry, Anne!)
But speculation about the motive is where the story spices up. Applebaum is not only the author of Gulag: A History, but she is also married to a Polish diplomat and ex-journalist, Radoslaw Sikorski, who, like his wife, has been critical in his writings of the Russian government, especially the Kremlin. Authorities say they believe the explosion was "a mechanical incident," but have assigned Applebaum bodyguards, just to be safe.
Gawker's Hamilton Nolan suggested half-facetiously that Applebaum "try not to get poisoned by dioxin or shot up, as is wont to happen sometimes" in Russia's "state-sponsored gangsterism." And as horrible as it would be to jump to conclusions about Russia (and start a war?), cars don't just blow up everyday! Especially the cars of vocal government critics, which I imagine is a particularly small Venn Diagram section.
Consider this a lesson for all ambitious reporters: ride a bike or stick to blogging. It's safe at home.
UPDATE: As it turns out, thing were far less shady than they originally seemed and Ms. Applebaum has explained the entire story on her Washington Post blog. That's the last time we'll ever quote Gawker!
Some of you may be deeply disappointed to hear this, but let me begin by reassuring all of my readers that no, my car did not blow up last weekend. I'm afraid it simply isn't true that the Russian mafia are out to get me either. I know it would have been more fun — and for some of you much more satisfying — but alas, I was never under attack at all.

Here is what happened: I was driving home from a friend's house in a Warsaw suburb Saturday night when my engine died. I tried to restart it, pumped the accelerator, heard a small explosion and saw a flame. Smoke started coming out of the hood, which I didn't want to open. (A bad move, in retrospect, but I've seen what happens to smoking cars in the movies.) Someone called the fire department, which clearly didn't take my car problems too seriously.
Here is the rest of the not-really-so-thrilling-after-all account.
Have a tip we should know? [email protected]