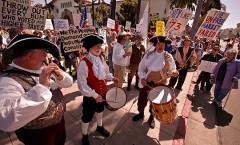 In the wake of last Tuesday's primary results the Washington Post is pondering whether the Tea Party's day in the sun is coming to a close. Sound familiar? If so, it might be because we wondered just the same thing two weeks ago. The Post, however, is attributing the demise of the Party movement to lack of organization:
The national tea party movement has never had a central organization or single leader; in fact, it has boasted the opposite. But Tuesday's primary results provided fresh evidence of the amorphous network's struggle to convert activist anger and energy into winning results. Frustrated and lacking agreement on what to do next, self-identified tea party leaders say the movement may be in danger of breaking apart before it ever really comes together.
Also? The partiers have apparently overstayed their welcome:
Even more demoralizing for activists, perhaps, is that disapproval of the tea party is at an all-time high, according to a new Washington Post-ABC News poll. The poll showed that 50 percent of Americans have an unfavorable view of the movement, compared with 39 percent in March.
It's probably worth noting that these were only primaries and that we have a long summer ahead during which, lord only knows what could happen. That said, now might be a good time for some enterprising politician to grab the Tea Party reins with an eye on November. In the meantime, what do you think? Is the Tea Party winding down?
Have a tip we should know? tips@mediaite.com