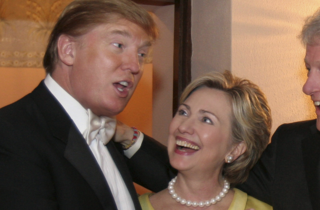 Ouch. Hillary Clinton just oh-so-casually slammed Donald Trump and it had to have hurt. Remember when a reporter asked Mariah Carey how she felt about something chart-topping rival Jennifer Lopez had recently done and Carey responded, "I don't know her"? What Clinton did was kind of like that.
In an interview Clinton did with People, she set the record straight in a way that would have made Regina George beam with pride.
"We were not friends," she said. "We knew each other, obviously, in New York. I knew a lot of people."
She was referring to her time spent as a New York state senator. Trump, of course, is from New York, which his GOP rival Ted Cruz has recently gotten in trouble for pointing out.
She told the magazine she found him "entertaining" but wasn't concerned with his commentary about her before ending that portion of the interview with a more diplomatic mic-drop:
I really care about what he says about other people who don't have the voice and the platform, who are never going to be interviewed by People Magazine, who could never stand up for themselves and respond to whatever is being said.
For his part, Trump was on record calling her a "terrific woman" prior to the campaign and even mentioning, as she did, that they were both from New York, which, at least as People displays it, reads a little bit like a nerdy high-schooler trying to claim he's in with the popular kids.
Maybe Nicki Minaj put it best when she rapped, "I told 'em it's no friends in the game, you ain't learned that yet?" Clinton might do well to study the song's next line: "All the bridges you came over, don't burn that yet."
[image via screengrab]
For more from Lindsey, follow her on Twitter.
This is an opinion piece. The views expressed in this article are those of just the author.