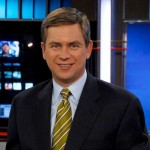 I'm trying really hard this week to say "Twenty Ten."
When we do a story looking back at 2009, I typically say "Two Thousand Nine." And when 2010 comes up in a script my first instinct is to continue the pattern and say "Two Thousand Ten." But it's time for a format change.
There is, of course, no governing body to make this decision for the world. And it's not like "Two Thousand Ten" is horrible. But we've got to think ahead on this so we can get back into the pattern that leaves us with easy historical references like the "Summer of '69." The example set by the media in the next few days will be a critical one. Whether it's Ryan Seacrest and Dick Clark on "Rockin' New Year's Eve" or Anderson Cooper on CNN, anybody who's on the air this week will have to figure out how to react to the number 2010.
I've been watching my colleagues to try to get some affirmation of my choice. There is little consistency. Carson Daly was on the Today Show this morning saying "Two Thousand Ten." We'll see if he sticks with that when he hosts NBC's countdown tonight. I listened to some of NBC Nightly News to see what direction Brian Wiliams was taking and didn't find a reference to 2010, but I did hear him say "Twenty Twenty-Five."
I checked with friends at CNN and there's been no clear directive to the network's anchors and reporters. But the promo announcer on the tease for the midnight coverage didn't fall in line with me. He says "countdown to two thousand ten."
I looked to the Brits for some affirmation. ITN's reporter said "Twenty Ten" in a lookahead to London's fireworks celebration. That definitely seems to be the pronunciation favored by my counterparts in Canada — likely driven by the fact that they've been talking about "Vancouver Twenty Ten" for years in their pre-Olympic coverage.
I crowd-sourced the question on Twitter and got dozens of responses and a clear consensus in favor of Twenty-Ten. Two followers led me to the TwentyNot2000.com website, which weighs in with this: "If we don't fix this now, we'll be stuck saying years the long way for the next 99 years. Don't let that happen!"
Cleveland Plain-Dealer reporter Tony Brown wrote about the topic last week. An expert at the Oxford English Dictionary told him it's obvious why we started the decade with "Two Thousand" instead of "Twenty Hundred." From there, we were led to "Two Thousand and One" by the iconic science fiction movie. But with 2010 we are in a position to make a clean break.
So join me in the transition to "Twenty Ten." As my interim reminder, I changed 2010 to "20-10" in broadcast copy. I'm betting I'll only need to do that for a few weeks, because a month from now "Twenty Ten" will be comfortably routine.

TV newsman Pat Kiernan picks his favorite stories from the morning papers each weekday on NY1 News and PatsPapers.com. He's known to VH1 fans as the host of World Series of Pop Culture. Twitter: @patkiernan
Related:
The Aughts: A Decade of "Huh?" [Mediaite]
Have a tip we should know? tips@mediaite.com