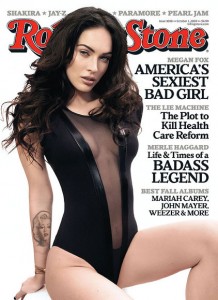 Megan Fox, a favorite of ours around here, set, er, tongues wagging about her quote for Rolling Stone magazine about her "powerful vagina." The comment was in context of Fox talking about how she learned to "harness her sexuality" which we now bring to you in full:
"What you do is harness your sexuality and use it to control your destiny…That's what can can happen when a girl or woman is completely in charge of her sexuality and embraces the power of her vagina. It intimidates men – not all, but some. Men are scared of vaginas. And then when you give them a powerful, confident vagina, they're terrified."
That ethos is clearly on display in Fox's new movie, Jennifer's Body, in which a nubile high schooler transforms into a bloodthirsty vampire who lures in young boys through the power of her sexuality (read: vagina) and then KILLS THEM DEAD. As The Awl's Melissa Lafsky writes in her excellent review:
Megan Fox's body is, inherently, evil. She's the Demon Pretty. That much Pretty has power over all of us—young, old, black, white, female and panting male alike. We're helpless in the face of it. We pay it more money, give it better customer service, offer it more respect at dinner parties. Studies have proven it: that level of Pretty controls our minds. So of course it should show up as a murderous demon in a horror film.
It's no wonder that men are scared of vaginas — particularly powerful, confident ones that will totally EAT YOU FOR LUNCH. The concept of that kind of hungry, voracious vagina is, of course, nothing new (hi, Sigmund Freud!) and it even has a fancy name: Vagina Dentata. It literally means "toothed vagina" (ouch!) and was the premise of the horror movie Teeth, which Lafsky succinctly describes as "teen loses control of the sexual beast within" – the poor protagonist has something quite literally monstrous lurking within her nether regions, which turns out rather unfortunately for several men in the film. Ah, horror. You're so classy.
And speaking of classy: Apparently Top Shop seems to think that translates into a great fashion idea. Because I was walking by on Friday night, and lo and behold front at center was this fabulous fashion creation: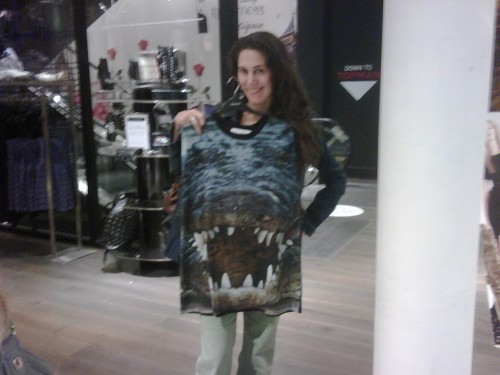 That's, er, anatomically pretty on point. Though I think it would be way more badass with the mouth of a Great White Shark or something — what's that, a bear? Those teeth aren't even serrated, for God's sake. Weak.
Anyhow, my point — and I do have one, and it's not just to make "Hakuna Dentata" jokes (read your tags, mofos!) — my point is, as usual, that Megan Fox is a thought-leader and our coverage of her is totally, completely justified.
That's all. In other news, boys…I'm available. Mwa-ha-ha-ha-ha!

Update: Actually, that's not it — here is the full, unabridged, 2-paragraph excerpt from Rolling Stone, so no one can say this post isn't useful. Call it…cervix journalism. Haaaa. Oh come on, admit it, that's a good one. Here's the full quote:
"I was 12 when I first started getting a lot of stares and attention from grown men, and for a while I misused that power," she says. "When you see 16-year-old girls in really short skirts and stripper heels and shirts that say WHITE TRASH WHORE on them – I was like that. But it's not empowering. It's the opposite. It's taking power away from you. I was like Jennifer in the movie. She's just so lost in her sexuality. What you do is harness your sexuality and use it to control your destiny. Like, if a conversation with a guy is going somewhere I don't like, you can manipulate it and build a dynamic that causes that person to fear you sexually. You do it with men by making them feel small, and men usually feel small when they're attracted to someone."

"…And that's what can happen when a girl or woman is completely in charge of her sexuality and embraces the power of her vagina. It intimidates men – not all, but some. Men are scared of vaginas. And then when you give them a powerful, confident vagina, they're terrified. They don't know how to deal with it. Look, I didn't figure out something special out here. I wasn't born with a special vagina. All vaginas are created equal. But as soon as you love your own, you're good. You're set."
Related:
Horror Chick: 'Jennifer's Body' Is Garbage, But You'd Tap It Anyway [The Awl]
Gawker's Guide to Coverage of Rolling Stone's Coverage of Megan Fox [Gawker]
What Megan Fox Has In Common With Barack Obama [Mediaite]
"Teeth": The Beast Within Eats the Boys Without [Opinionistas.com]
Henry Moore: Oval With Points [EurekAlert]
Have a tip we should know? tips@mediaite.com