When Reporting on Same-Sex Marriage News, Papers Prefer Lesbians over Gay Couples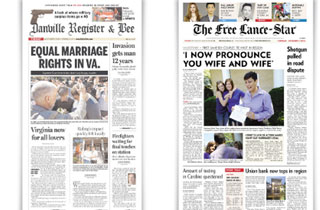 This week, the Supreme Court upheld rulings in six states that allowed gay and lesbian couples to marry, and struck down same-sex marriage bans in two other states.
And according to Bloomberg, this is how the newspapers in the states affected chose to report it: out of 35 newspapers that featured the ruling on their front page, a whopping 29 of them used photos of two women getting married, while only three featured gay male couples. (The remaining three "split the difference," featuring multiple photos of gay and lesbian couples.)
A hearty mazel tov to all the happy couples pictured!
Going off these photos alone, though, it would appear as though roughly 87% of same-sex couples about to be wed are lesbian couples. It's an unusually skewed selection, given that most estimates believe there are slightly more gay men than lesbian women.
However, there's the very real possibility these newspapers decided a lesbian couple would be a much less threatening image to use than a gay couple? It's entirely possible given that the affected states were all non-coastal and lean somewhat conservative.
And this preference is well-documented: In a profile on gay rights pioneer Edith Windsor, the New Yorker described exactly why she was the ideal plaintiff to challenge, and eventually strike down, the Defense of Marriage Act:
When selecting the ideal plaintiff, one experienced movement attorney told me, "Women are better than men, post-sexual is better than young." From the Bible onward, two men having intercourse has been viewed as more disturbing to the social order than two women doing whatever it is that lesbians do. For people to embrace same-sex marriage, they needed to focus on the universal desire for romantic love and committed intimacy. Contemplating the difference between gay people and straight people made it acceptable to treat their relationships unequally, and the difference between homosexuality and heterosexuality is sexuality. Provided that Kaplan kept her client muzzled on the topic, Americans could imagine that Edie Windsor had aged out of carnality.
Are these newspapers' choices indicative of media-wide homophobia? Not really. But it's an interesting indication of how media decide — possibly subconsciously — what is and is not okay for public consumption.
[Bloomberg Politics]
[Images via Newseum]
— —
>> Follow Tina Nguyen (@Tina_Nguyen) on Twitter
Have a tip we should know? tips@mediaite.com