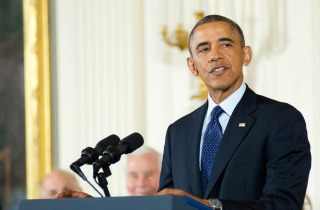 The Obama White House is once again at the center of a story on the balance between government transparency and freedom of the press.
Paul Farhi in the Washington Post writes that the press office in the current White House has on several occasions meddled with the pool reports on President Barack Obama.
Pool reports are dispatches of Obama's public or semi-public appearances written by professional reporters who are selected on a rotating basis by the independent White House Correspondents' Association. The reports are written throughout the day and sent to the White House press office, which in turn then distributes them to a vast email list comprised of other journalists and government officials.
Farhi's article says most of the interference from the White House is minor, dealing with spelling or small fact corrections. But sometimes the White House objects to certain details in the reports.
As the pool reporter on a presidential trip to California in mid-2012, Todd Gillman of the Dallas Morning News included a colorful scene in his pool file: Obama walking back to the press section of Air Force One bearing a dessert with a lighted candle to honor a veteran reporter who was making her final presidential trip. Gillman added the seemingly innocuous detail that Obama asked the honoree to blow out the candle and make a wish, "preferably one that had something to do with the number 270," the minimum number of electoral college votes the president needed to win reelection.

A press aide, whom Gillman declined to identify, asserted that the details of this scene were off the record and refused to distribute Gillman's account. Only after Gillman appealed to then-press secretary Jay Carney was the report finally sent — a day after the fact and long after reporters' deadlines had passed.
"We value the role of the independent press pool, which provides timely, extensive, and important coverage of the president and his activities while at the White House and around the world," White House deputy press secretary Eric Schultz said in a statement to the Post. "That is why, at the request of the White House Correspondents Association, the White House has distributed 20,000 pool reports in the past six years, and we will continue to offer that facilitation for journalists as they work to chronicle the presidency."
Jen Bendery of the Huffington Post, who has covered Obama for the pool reports on several occasions, told the Post, "I don't know why the White House tries to be an editor or middleman." She added, "They're just supposed to hit 'forward.'"
The Obama administration has long faced claims from the press that it is overly aggressive in blocking access to reporters.
Just last week, Associated Press Washington Bureau Chief Sally Buzbee said the administration engages in "day-to-day intimidation of sources."
[Photo via Shutterstock]
— —
>> Follow Eddie Scarry (@eScarry) on Twitter
Have a tip we should know? tips@mediaite.com