White House Journalists Experiment with Circumventing Obama Admin in Report Distribution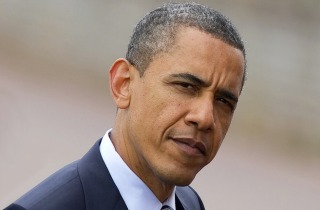 White House reporters are testing out a way to cut out the Obama administration when distributing so-called pool reports to other journalists and news organizations, according to the Washington Post.
A mild stink started in late September when it was reported that the administration is tampering with write-ups of President Barack Obama's public activity by White House journalists. The reports ("pool reports") are intended to be distributed as written. But as they are actually first submitted to the White House press office, which then distributes them to a Listserve, the reports are first scrutinized by administration officials, who sometimes request changes to the reports.
The Post reports that a group of 90 or so reporters from the White House Correspondents' Association recently tested out a way to distribute write-ups on Obama without having to send them first to the White House press shop.
More from the Post:
Nearly 90 journalists, all working for print media, are part of the Google Groups distribution — a small fraction of the estimated 8,000 people, agencies and organizations that receive the "official" pool reports sent out by the White House.

The goal is to create an independent pool-reporting system for print and online recipients, the WHCA members say. TV and radio reporters already have such a system, but print and online reporters — a far larger group than broadcasters — are dependent on the White House to manage and maintain the distribution system.

"Our goal here is to build a supplementary system for the print poolers so they can send out information directly to other reporters whenever they feel they need to, much as the TV and radio poolers do now," said WHCA President Christi Parsons, who is the White House correspondent for Tribune newspapers.
The problem with completely circumventing the White House with a new system: it's costly. The system would need to be maintained by staff who can update the Listerv, update reporters on White House schedule, and manage who is on duty each day to cover the president. The WHCA may raise association fees to cover such costs, according to the Post.
[h/t WaPo]
[Photo via Shutterstock]
— —
>> Follow Eddie Scarry (@eScarry) on Twitter
Have a tip we should know? tips@mediaite.com