White House Stands By Spokesman's Email To The Boston Herald On Access To Press Pool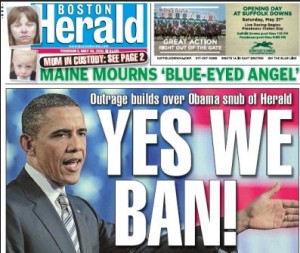 The White House is standing by its refusal to grant The Boston Herald access to the press pool for President Obama's Wednesday fundraiser in Beantown. White House spokesman Matt Lehrich told The Herald that pool assignments had already been determined by the White House Correspondents Association, but also said, "I tend to consider the degree to which papers have demonstrated to covering the White House regularly and fairly in determining local pool reporters."
Lehrich cited the paper's full front-page publication of a Mitt Romney op-ed, while ignoring a visit by President Obama on that same front page, as an example of the paper's lack of fairness.
Asked by Mediaite if there's an editorial litmus test for access to Presidential events, the White House stood by Lehrich's statement, but did not specifically address the question of a litmus test.
Here's the body of the email that I sent to Press Secretary Jay Carney, and to Lehrich:
Do either of you have anything to add to the issue of the Boston Herald being excluded from the pool on the Boston trip? Do you object to the publication of the email? Matt's email gave the impression that there's an editorial litmus test for access to Presidential events. Is there such a test?
This is the response I received, from Deputy Press Secretary Josh Earnest:
Our policy is clearly articulated in the on the record comment that the Herald received on tuesday: in this particular instance, the Boston Globe had arranged with the White House Correspondents Association, independent of the White House press office, to be part of the traveling press pool. As such, there was no need for an additional local pooler in Boston. As we have in the past – including the multiple occasions on which the Herald has supplied local pool reporters – we will continue to consider the Herald for local pool duty during future visits.

Also, you should note that Herald reporters were granted access by the White House: to witness the arrival of Air Force One in Boston, to attend the President's remarks at his first event and to review the written accounts of the small group of traveling reporters who covered the president's second event on behalf of the entire White House press corps.
This is a bit confusing, because Lehrich's original response made clear that the Romney op-ed had nothing to do with the decision to go with The Boston Globe for the press pool, a decision that wasn't even made by the White House. As Earnest points out (and I concur, from experience), it is not customary to increase the size of the pool contingent to accommodate a special request. Perceived fairness had nothing to do with this.
Why bring it up, then? This press office has never been shy about letting reporters know when they think we've been unfair, and this appears to be a somewhat heavy-handed example of that. Their failure to revisit it on follow-up indicates that Lehrich's remark was not a statement of policy. The fact that they didn't retract the remark, though, seems to be the equivalent of a "purpose pitch," just close enough to make you think.
This is an opinion piece. The views expressed in this article are those of just the author.