Whitewashing Kissinger By Dissing WaPo on Watergate? The Economist Isn't Buying It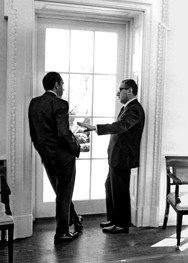 Historians generally agree that Watergate was a great, shining moment for the press – and for the Washington Post, which published the scoops of that would eventually take down a president. Bob Woodward and Carl Bernstein have made careers out of it; Robert Redford and Dustin Hoffman added it to theirs, as have countless authors and scholars.
But the July 17th issue of the Economist points to a more unorthodox take: That the Washington Post was selfish, irresponsible, and directly responsible for thwarting the World Peace that Richard Nixon would certainly have won.
Huh?
In an otherwise laudatory review of a new book, Kissinger: 1973, The Crucial Year, by Alistair Horne, a distinguished British historian, The Economist's reviewer found a stunning denial of one of journalism's historic triumphs:
"The author's worst failing is his total misunderstanding of Watergate. He interprets it as self-interested irresponsibility on the part of the Washington Post, exploited by Democratic politicians for partisan purposes. For him, their frivolity robbed the world of peace made possible by Mr. Nixon's flawed strategic genius and Mr. Kissinger's brilliant diplomacy.

When Americans speak of Watergate, they are referring not only to the break-in at the Watergate building, but the whole course of illegal behaviour that Mr Nixon encouraged to improve his chances of winning the 1972 election. This was paranoid folly; he would have won anyway. Far from being wrong, it was brave and public-spirited of the Washington Post to investigate conduct that threatened the integrity of American democracy."
It's a fairly extraordinary claim, and oddly, one that escaped the notice of Jacob Heilbrunn when he reviewed the book for the New York Times the weekend before last. What Heilbrunn did note, interestingly, was that Horne may have been perceived as a biographer more inclined to see things in Kissinger's favor:
Kissinger has always been acutely sensitive to criticism, and he miscalculated by providing Walter Isaacson full access for a 1992 biography, which was supposed to counterbalance Seymour Hersh's withering 1983 account, "The Price of Power." It didn't. Then came Christopher Hitchens's "Trial of Henry Kissinger" (2001). Turning to two British historians with conservative pedigrees must have seemed the prudent way to restore order: Horne explains that in 2004 he met with Kissinger, whom he has known for almost three decades, and proposed confining himself to 1973, thereby allowing the equally prolific Niall Ferguson, who extolled Kissinger last year in The Times Literary Supplement, to work unmolested on a forthcoming official life.
If, indeed, Horne was favorably disposed to paint Kissinger in a flattering light, this is indeed an extreme example. I'll let the Economist have the last word: "To believe that but for the irresponsibility of the Washington Post and the Ervin Committee he would have bequeathed the world a generation of world peace, is too much."
Related:
A year to remember [The Economist]
Got Your Back [NYT]
Excerpt: Kissinger: 1973, the Crucial Year [NYT]
Bill Rappleye has spent the last 60-plus years in journalism. Read more about him here.
Have a tip we should know? tips@mediaite.com