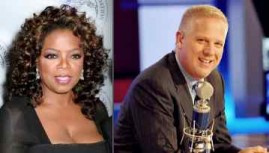 Let the games begin! Now that Oprah Winfrey has officially decided to end her talk show the race is on to find her daytime replacement. Brian Stelter pens a speculative piece in today's Times about the possible contenders for Oprah's crown:
Already, she has groomed another decade's worth of new talk show hosts. She ordained Mr. McGraw in 2002, and his talk show, "Dr. Phil," now ranks second behind her own hour. She followed up with "Rachael Ray" in 2006 and "The Dr. Oz Show" this fall. "Dr. Oz" is already a hit. And now she is developing a program for Nate Berkus, her favorite interior designer, for fall 2010…The shake-up may also make more room for lower-rated talk shows by Martha Stewart, Tyra Banks and Bonnie Hunt, among others. Looking farther afield, Ms. Couric, whose CBS News contract is up in 2011, has long been mentioned as a possible syndicated star.
All great ideas, and it would certainly be interesting to see Couric try and rekindle her daytime fan base. That said, it's hard to envision any of these people filling Oprah's shoes. While she certainly started out as merely a popular talk show host, Oprah became in the last decade or so, evolved into a sort of national mentor around whose ideas and beliefs people (the country, one might argue) shaped their outlook on life. Probably it's safe to say no one is taking life advice from Katie Couric, or Ellen, or Tyra Banks. Know who some people are taking life advice from these days? Glenn Beck.
Yes, granted it's a different sort of life advice — I'm fairly certain that Oprah never went on a weeks-long diatribe comparing anyone to Chairman Mao — but different times call for different media stars! And Glenn Beck is nothing if not a media star to fit our politicized, polarized times. Instead of the Oprah life philosophy, which taught us to take responsibility for our own actions, Beck wants us to take responsibility for our politics (I think…sometimes his theories are difficult to keep up with amidst all the chalkboard razzle-dazzle).
Beck has already drawn Oprah comparisons from the New York Times, no less, for his Winfrey-like effect on book sales. However, this weekend's much-covered announcement of his 100 year plan elevates him to the realm of (potential) movement leaders. I still don't think Beck has his eyes on the presidency (and in the words of James Poniewozik, "I don't believe that I have done anything to deserve being that lucky as a columnist") but read the following statement from Beck regarding his 'plan" and then swap in diet, or food, or 'best life now' (or the Secret) for freedom, or values, or founders…and voila! You have a somewhat scary successor to the 90's Oprah phenom.
I have begun meeting with some of the best minds in the country that believe in limited government, maximum freedom and the values of our Founders. I am developing a 100 year plan. I know that the bipartisan corruption in Washington that has brought us to this brink and it will not be defeated easily. It will require unconventional thinking and a radical plan to restore our nation to the maximum freedoms we were supposed to have been protecting, using only the battlefield of ideas.

– All of the above will culminate in The Plan, a book that will provide specific policies, principles and, most importantly, action steps that each of us can take to play a role in this Refounding.
The question (or one of them) obviously remains: Will Beck still have the media clout necessary to summon crowds of people at "the feet of Abraham Lincoln on the National Mall for the unveiling of The Plan and the birthday of a new national movement to restore our great country" come August 28, 2010? Who knows. Oprah benefited from a media cycle that was mostly under her control. Also, she has years of success under her belt before launching into movement-like undertakings such as the Angel Network, or Living Your Best Life Now, etc. Glenn Beck has only actually been a national media phenom since roughly August; next August is a ways away in our current media and political cycle. Also, love her or not, Oprah was not perceived by much of the population as being unhinged. However, that said, judging by the current ratings a certain cable news channel enjoys (not to mention the pop stars du jour) the public apparently prefers their media figures as unhinged as possible.
Related:
Glenn Beck, The New Edward R. Murrow Of Fox News: Who's The Next Target?
A Palin/Beck Ticket In 2012? The Mind Reels
The Only Person More Popular Than Glenn Beck Is Oprah
Have a tip we should know? tips@mediaite.com