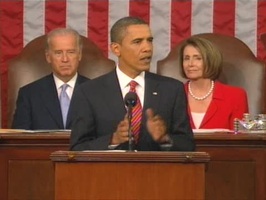 During President Obama's address to a joint session of Congress last night, delivered over the din of Republican obstruction, he spent 7 paragraphs speaking about the need for a public health insurance option, and included one in the White House's reform plan. What did the Associated Press take away from all of this?
Analysis: Obama willing to deep-six public option
This analysis seems to spring from these two sentences:
For example — for example, some have suggested that the public option go into effect only in those markets where insurance companies are not providing affordable policies. Others have proposed a co-op or another non-profit entity to administer the plan. These are all constructive ideas worth exploring.
So, two sentences placating the GOP's and Blue Dogs' macaroni art constitutes a repudiation of the public option?
This is nothing new for the mainstream media, who have taken, or created, every opportunity they can to declare the public option dead.
The White House's position on the public option has been remarkably consistent. I've heard Gibbs asked time and again about the public option, and while they have refused to draw a line in the sand, the White House has consistently said that they strongly support a public option. Absent sand-line-drawing, that's about as strong as you can get.
If the White House and the American people strongly support a public option, why is the media so anxious to see it killed?
Here's what the President said about the public option last night:
Now, my health care proposal has also been attacked by some who oppose reform as a "government takeover" of the entire health care system. As proof, critics point to a provision in our plan that allows the uninsured and small businesses to choose a publicly sponsored insurance option, administered by the government just like Medicaid or Medicare. (Applause.)

So let me set the record straight here. My guiding principle is, and always=2 0has been, that consumers do better when there is choice and competition. That's how the market works. (Applause.) Unfortunately, in 34 states, 75 percent of the insurance market is controlled by five or fewer companies. In Alabama, almost 90 percent is controlled by just one company. And without competition, the price of insurance goes up and quality goes down. And it makes it easier for insurance companies to treat their customers badly — by cherry-picking the healthiest individuals and trying to drop the sickest, by overcharging small businesses who have no leverage, and by jacking up rates.

Insurance executives don't do this because they're bad people; they do it because it's profitable. As one former insurance executive testified before Congress, insurance companies are not only encouraged to find reasons to drop the seriously ill, they are rewarded for it. All of this is in service of meeting what this former executive called "Wall Street's relentless profit expectations."

Now, I have no interest in putting insurance companies out of business. They provide a legitimate service, and employ a lot of our friends and neighbors. I just want to hold them accountable. (Applause.) And the insurance reforms that I've already mentioned would do just that. But an additional step we can take to keep insurance companies honest is by making a not-for-profit public option available in the insurance exchange.& nbsp; (Applause.) Now, let me be clear. Let me be clear. It would only be an option for those who don't have insurance. No one would be forced to choose it, and it would not impact those of you who already have insurance. In fact, based on Congressional Budget Office estimates, we believe that less than 5 percent of Americans would sign up.

Despite all this, the insurance companies and their allies don't like this idea. They argue that these private companies can't fairly compete with the government. And they'd be right if taxpayers were subsidizing this public insurance option. But they won't be. I've insisted that like any private insurance company, the public insurance option would have to be self-sufficient and rely on the premiums it collects. But by avoiding some of the overhead that gets eaten up at private companies by profits and excessive administrative costs and executive salaries, it could provide a good deal for consumers, and would also keep pressure on private insurers to keep their policies affordable and treat their customers better, the same way public colleges and universities provide additional choice and competition to students without in any way inhibiting a vibrant system of private colleges and universities. (Applause.)

Now, it is — it's worth noting that a strong majority of Americans still favor a public insurance option of the sort I've proposed tonight. But its impac t shouldn't be exaggerated — by the left or the right or the media. It is only one part of my plan, and shouldn't be used as a handy excuse for the usual Washington ideological battles. To my progressive friends, I would remind you that for decades, the driving idea behind reform has been to end insurance company abuses and make coverage available for those without it. (Applause.) The public option — the public option is only a means to that end — and we should remain open to other ideas that accomplish our ultimate goal. And to my Republican friends, I say that rather than making wild claims about a government takeover of health care, we should work together to address any legitimate concerns you may have. (Applause.)

For example — for example, some have suggested that the public option go into effect only in those markets where insurance companies are not providing affordable policies. Others have proposed a co-op or another non-profit entity to administer the plan. These are all constructive ideas worth exploring. But I will not back down on the basic principle that if Americans can't find affordable coverage, we will provide you with a choice. (Applause.) And I will make sure that no government bureaucrat or insurance company bureaucrat gets between you and the care that you need. (Applause.)
Have a tip we should know? [email protected]