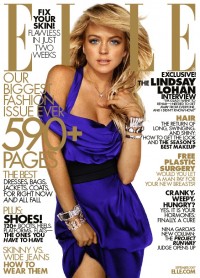 Keith Kelly reports today that Paris-based Lagardére is in talks with Hearst Corp. about taking over the US operations of fashion Hachette's flagship magazine Elle. He estimates the value of the influential fashion title at $200MM. Elle has recently been cited in the trades as a singular bright spot in an otherwise blighted sector – most recently getting attention for selling more ad pages than Conde Nast rival Vogue.
Kelly reports:
Fashion magazines, which last week released their ad tallies for the all-important September issues, are having a very tough year as high-end luxury advertisers and retailers sharply cut back on ad spending amid the recession.

Through the August issue, Elle was down 20 percent to 1,099.5 ad pages, according to Media Industry Newsletter, giving it a brief lead over industry standard Vogue for the first eight months of 2009. However, Vogue, with 427 ad pages in September, passed Elle to regain the lead. Through September, Vogue has about 1,476 pages, compared with Elle's 1,428, according to preliminary estimates.

Still, the fact that the race is thisclose is a boon to Elle and its editor-in-chief, Robbie Myers, since the magazine has never come close to beating the segment leader, which is led by Anna Wintour.
If rumors are true, why would Hachette want to sell off a profitable magazine that is on its way up? Perhaps because it's one of the few titles of value that that they can use for liquidation. Publishing companies are looking to acquire magazines that make money, a rare breed in this current economic climate.
Many consider the selling off of successful title to be a drastic action for a publishing company in need of cash – something we could be seeing much more of in the future. Will Time Inc. look to sell InStyle? Will Conde Nast sell Glamour? If so, who will buy them? Bruce Wasserstein can only purchase so many titles.
Have a tip we should know? tips@mediaite.com