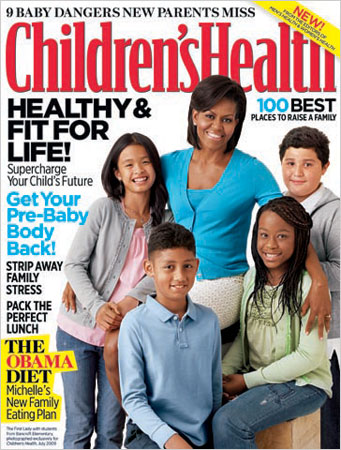 Facing a surprising amount of resistance to his health care agenda, President Obama has been forced to get increasingly creative in his counterattack. He's tried his own town halls; he's tried viral video. Now, the New York Times reports, he's enlisting the formidable Rodale magazine empire. He and his family will appear on the covers of Men's Health, Women's Health, Prevention, and the newly-launched Children's Health, and he'll explicitly make the pitch for his health care plan in Men's Health. From Rodale's point of view, it seems like a great business move — but will it backfire on Obama?
It's precisely the nonpartisanship of health magazines that has made them appealing to politicians in the past. Rodale-owned Runner's World ran a long interview with Sarah Palin in July. In addition to getting countless comments on their website and having lots of pictures of Sarah Palin in tight spandex, it may have been the best interview Palin's ever given.
The questions weren't particularly hard-hitting ("What kind of scenery do you like running by there in Alaska? Is there a particular mountain or glacier that stands out?"), but Palin answered them likeably and intelligently. Her detractors would cringe to hear this, but not having to answer the policy questions that a political magazine or a newsweekly would have asked her, she came across as down-to-earth, though she kinda squandered it with the whole deranged death panel thing a month later. Maybe it helped that one of her two favorite writers is a former Runner's World editor?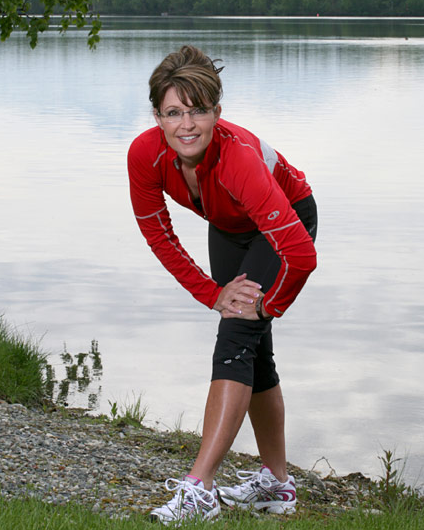 At that Palin was comfortably out of the political spotlight when her Runner's World piece ran; she resigned from office shortly after its publication.
What makes Obama's Rodale appearances different is that they will be pushing a partisan agenda. According to the NYT:
The Men's Health and Women's Health articles publicize the Obama health care plan, with Men's Health strongly endorsing it. A sidebar to the president's interview there lists "five reasons you should care" about the health care plan, and each point is positive — your premium may go down, your emergency room care would improve.
While a story like this was likely booked months ago given the magazine production cycle, Men's Health is making a gutsy move by incorporating the president's health care agenda. If conservative groups jumped on Obama for his planned address to the nation's children, they'll surely pounce on this. But failing an unlikely boycott, the publicity from this can only help sales. And Obama cover stories haven't exactly hurt magazine sales historically.
Still by politicizing Men's Health, Obama risks losing a safe haven of the sort that politicians love; in the future it will be harder for him to give softball interviews to magazines saying he's just a regular guy.
That said, if Ron Paul teamed up with Rodale's Organic Gardening to promote a return to the gold standard, we'd be interested, as would the entire front page of Digg.
Have a tip we should know? tips@mediaite.com