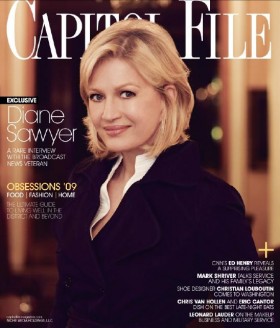 Capitol File, a Washington society magazine in Jason Binn's Niche Media stable, got very lucky: They had a Diane Sawyer interview in the can just before the announcement came in late August that she would be taking over from Charlie Gibson as the anchor of ABC World News. Sawyer doesn't do many of these, and Cap File got lots of access, a sweet photoshoot capturing Sawyer in various guises, and a nice chatty interview about Sawyer's career highlights (interviewing Nelson Mandela and Boris Yeltsin was amazing; interviewing Saddam Hussein was stressful and made her extremely conscious of the mortality of herself and her crew), Nixon's geopolitical insight, and how many hours of sleep she gets a night (four). The article goes to great lengths to present her as an ambitious, accomplished leader in her industry, which was made all the more impressive considering the era in which Sawyer rose to prominence as a woman in a man's world.
Then I saw the headline. It read: WOMAN ON TOP.

Here's the full spread below: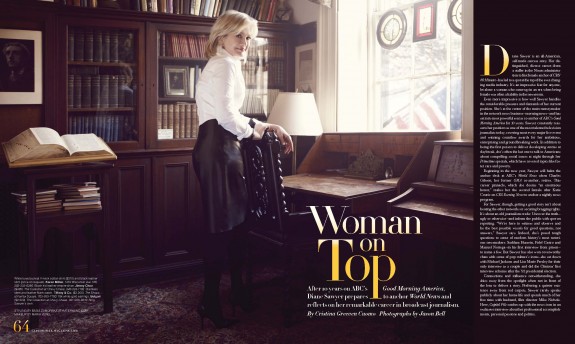 Is it me? Am I crazy? Or is that title just unmistakably a double-entendre? Which takes this accomplished woman at the pinnacle of a highly-decorated career — and reminds us all that she's also good for sex? I am scratching my head trying to remember all those "Charlie Gibson: Cock of the Walk" articles from 2006. It is, of course, not hard to find a feminized Katie Couric headline. (Remember "Katie Cougar?") But aren't we supposed to be past this?
Maybe it's me, and I'm just looking for this stuff. What does Google say? Hmm, "Woman on Top" gets results that largely implicates helpful advice for you and your partner or the 2000 Penelope Cruz movie of the same name. She was also a successful woman, but she had an issue. Guess what it was?
Then I asked my mom, thinking that maybe it was a generational thing. I told her about the story and then read her the headline. "Oh," she said. "That's sexual." Then I switched the subject immediately, but not before she said "What a shame, she's such an accomplished woman."
Yes it is a shame — we knew the feminized Diane Sawyer headlines were coming, just not so soon. This is the first magazine feature out the gate, and it's a good one — Hamptons editor Cristina Greeven Cuomo asked good questions, and got great answers (and clues to her upcoming ABC World News staff about what she'll expect: When asked how makes mediocre material better, she says "It's in the writing. You have to fuse it with what you're thinking." So, staffers, better learn how Diane Sawyer thinks!). Old-school journos will love her nods to the greats: Don Hewitt, and Roone Arledge, and her characterization of this crazy new media world as "nonstop yakking — all of us, all of the time."
And yes, it's a great headline — sure to get attention! — but was it really necessary? Especially paired with that photo, featuring Sawyer with a knowing look, clad fashionably, appropriately yet undeniably appealingly in heels and a black leather skirt. Oh dear Lord, how am I talking about what Diane Sawyer is wearing so soon?
There are people out there who will say that this isn't a big deal, but I think it is. There's nothing wrong with noting that Sawyer is gorgeous — She is! Word from sources at Cap File is she needed next to no retouching — but it takes it a step further to present her with such a blatantly sexual association like this. I was trying to think of other women for whom "Woman on Top" would be seen as appropriate, and I was stuck: Madeleine Albright? Jill Abramson? Oprah? Michelle Obama? Good Lord, even imagining that last headline makes me uncomfortable.
I wonder if this would bother Sawyer, or if she's used to this. She was asked by Cuomo how it felt to interview people like Ahmadinejad, with archaic views of women. Said Sawyer:
I'm fairly used to being dismissed, particularly in certain parts of the world and it was even truer a few decades ago when I was starting out.
So maybe this is no big deal to her, considering what she went through then. Conversely, maybe it's no big deal now — not only was the interviewer a prominent, accomplished woman, but the editor of Capitol File is, too — EIC Sarah Shaffer, pictured here with Hillary Clinton — someone else who knows her way around a sexist/suggestive headline.
Sigh. Will this ever get easier? Maybe when Ann Curry knocks out BriWi at NBC Nightly News. She's hot, too.
Related:
Charlie Gibson To Leave ABC World News; Diane Sawyer, Woman, To Replace Him [Mediaite]
Diane Sawyer Vs. Katie Couric: Handicapping The Coming "Catfight" [Jezebel]
Advice For Diane Sawyer [CJR]
Have a tip we should know? tips@mediaite.com