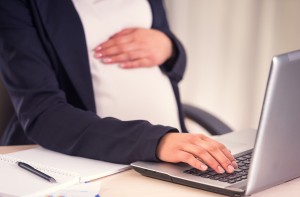 Women who don't have children should nonetheless be given their own form of maternity leave called "Me-ternity," argues an upcoming book of the same name.
Writing for The New York Post, author Meghann Foye laid out her reasoning. "After 10 years of working in a job where I was always on deadline, I couldn't help but feel envious when parents on staff left the office at 6 p.m. to tend to their children, while it was assumed co-workers without kids would stay behind to pick up the slack," she complained.
Foye believes women "and to a lesser degree, men" should be given the same benefits that parents do, allowing them to focus on other things in their lives without actually having to, you know, bear and raise an infant.
"Bottom line: Women are bad at putting ourselves first," she says. "But when you have a child, you learn how to self-advocate to put the needs of your family first. A well-crafted 'meternity' can give you the same skills — and taking one shouldn't disqualify you from taking maternity leave later."
The column prompted a criticism on social media, and even got a response within the pages of the same newspaper. "Have you recently had your body split open by a screaming, red, nightmare-lump of writhing humanity? Or taken on the hair-raising responsibility of parenting a little one with less ability to manage for him- or herself than a newborn kitten?" asks the Post's Kyle Smith. "Then, sorry. You don't qualify for maternity leave."
[Image via screengrab]
——
>>Follow Alex Griswold (@HashtagGriswold) on Twitter
Have a tip we should know? tips@mediaite.com