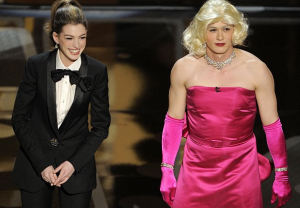 If you're friends with either Anne Hathaway or James Franco, you might want to do what you can to keep them off the internet and away from newspapers today. It's not pretty out there. The hosts of Sunday night's Academy Awards show on ABC have given critics a form of Christmas in February, and they're holding nothing back. The UK's Daily Mail headlines "Clumsy and Downright Painful," and the New York Post went with "Hip Was Never So Dull." And those were the nice reviews.

Alan Sepinwall at HitFix called the Oscars "disastrous." Caryn James at IndieWire, noting that Franco shared backstage tweets with viewers, headlined "Franco Tweets While Oscars Burn:"
Sluggish, badly-written, a near-disaster from start to finish, the Oscar show was the best evidence yet that even if the Academy thinks it want to be younger and hipper, it has no idea how to do that.
In The Hollywood Reporter, Tim Goodman put it this way:
Was it a bad idea to have actors host? No, it was spectacularly bad. In what could go down as one of the worst Oscar telecasts in history, a bad and risky idea — letting two actors host — proved out in spectacularly unwatchable fashion on the biggest of all nights for the film world.
In the New York Daily News, David Hinckley concludes the effort at appealing to a "younger demographic" with Hathaway and Franco was a failure: "Young are a snoozefest: Franco dazed, Hathaway totally 2-D:":
A song about Hugh Jackman pulling out of a proposed duet performance, for instance, had all the broad, relatable appeal of a song about her caterer delivering the wrong sushi wrap.

She also didn't get a lot of help from her cohost, James Franco, who sometimes looked as if reading the cue cards was the only thing keeping him awake.
THR's Goodman notes Franco may have boosted the morale of one previously panned Oscars host, David Letterman:
It was not a great night to be on the Internet if you were one of Franco's trusted advisers, as the likable, quirky actor was torched on Twitter and pimp-slapped across the web for his lifeless performance. He had no business agreeing to host the Oscars, and his resulting pratfall in front of — what, a billion people? — must have made David Letterman gleeful, as his stint will no longer be pointed out as some kind of nadir. Anne Hathaway at least tried to sing and dance and preen along to the goings on, but Franco seemed distant, uninterested and content to keep his Cheshire-cat-meets-smug smile on display throughout.
As Goodman concludes, "Somewhere Ricky Gervais is laughing like a school girl." Well said, sir. Well said.
Have a tip we should know? tips@mediaite.com