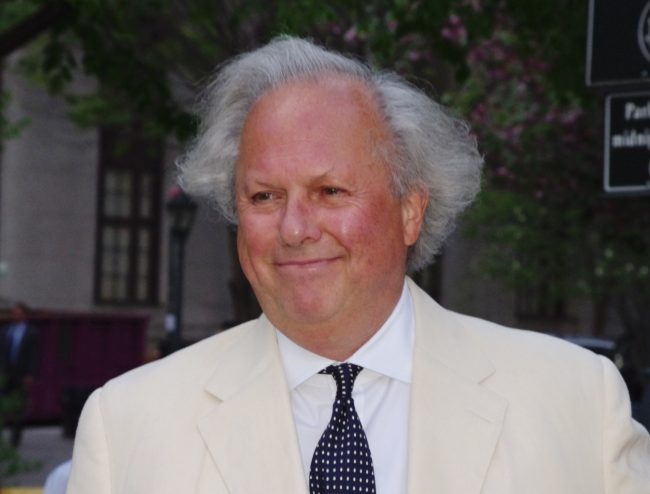 News broke earlier this month that, after 25 years as Editor-in-Chief of Vanity Fair, Graydon Carter will step down from the magazine at the end of the year and, rather predictably, he has taken to selling his story to a publisher in what he hopes to be a lucrative book deal.  WWD reported on how everybody apparently wants his next book, and how Carter might get as much as $500,000 for the rights to his memoir, though given the reputation he has for a massive ego, he probably expects more. But given Carter's history as an author, who would really spend big dollars on a book deal?
The days of the megastar magazine editor — who makes seven figures and is a recurrent presence on the NY media cocktail party circuit — is ending mostly due to the massive declining economics of magazine publishing. Carter is one of a half dozen "star" editors who have stepped down of late, but arguably the most marketable after the fact. And given Carter's place in pantheon of the NY media elite, one might think his brand could sell books. But the evidence suggests otherwise.
A simple search on Amazon shows that Carter has a byline on many books currently for sale, though all but one are branded as Vanity Fair books (collections of photos, essays and the like).
But there is one exception to the rule, and that's What We've Lost, a political jeremiad (written solely by Grayden Carter) that focuses on what he saw as the disastrous effects of the George W. Bush administration. According to a BookScan search, this book sold only 11,000 copies over several years.
There is no way to frame this in a positive manner; for a guy with a built in PR machine behind him, this is a remarkably weak number. And publishers would pony up mid six figures for this track record? Why? Sure, his new book might be a more marketable look back at his interactions with celebrities and political leaders over the years but unless this is basically a gossip book (which one would not think Carter would want to do) what are the indications that this book could sell?
Carter's earned his reputation as a talented magazine editor who re-shaped Vanity Fair after succeeding Tina Brown in 1992. His 25 year-stint atop the masthead resulted in a major shift in Vanity Fair's coverage of politics, the media, and celebrity figures. "I want to leave while the magazine is on top," Carter told the New York Times, adding "I want to leave while it's in vibrant shape, both in the digital realm and the print realm. And I wanted to have a third act — and I thought, time is precious."
But judging by his previous book sales, while he had the full power of Vanity Fair behind him, it's not clear that his "third act" will be that of a best-selling author. And publishers looking to cash in on the Graydon Carter brand might be wise to include Conde Nast in the negotiation since, judging by book sales, it seems the Vanity Fair is worth far more in revenue than Carter himself.
This is an opinion piece. The views expressed in this article are those of just the author.