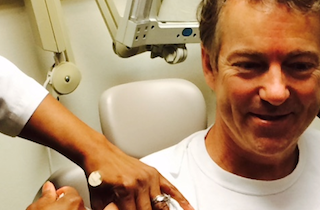 Senator Rand Paul (R-KY) accused the "liberal media" of distorting his statements on vaccines yesterday. He'll have to widen that term to include the right-wing Wall Street Journal editorial board.
One day after chastising New Jersey Governor Chris Christie for his vaccine squishiness and praising President Barack Obama for his forthright encouragement of vaccinations, the WSJ ed board accused Paul of joining the "Santa Monica left" in casting aspersions on vaccinations.
Paul went further than Christie and former Hewlett-Packard CEO Carly Fiorina — both whom said only that certain vaccines should be left to parental choice — by citing cases of children who developed serious mental disorders following vaccines, a potential dog-whistle to the anti-vaxxer crowd. (Paul clarified his position after widespread criticism.)
RELATED: Vaccination Issue Could Be Moment of Truth for GOP Candidates
"Mr. Paul is an ophthalmologist, so he should know he was broadcasting misinformation," the board responded, along with a back-of-the-napkin rundown of the evidence against Paul's implications.
The conservative board warned Paul "will have to avoid these libertarian dormitory passions if he wants to be a credible candidate," and portrayed vaccines as a perfectly legitimate use of state power:
Government doesn't "force" parents to vaccinate children. The states impose penalties (such as barring attendance in public schools) on those who pose a risk to public health by refusing vaccinations against infectious diseases. This strikes us as a legitimate use of state "police powers" under the Constitution. It is also a reasonable and small sacrifice of liberty to prevent the potentially fatal infection of unsuspecting infants at Disneyland.
It also reminded everyone that even Obama dabbled in a bit of autism-vaccine linkage back in the 2008 primaries, a dubious assertion.
[h/t Wall Street Journal]
[Image via Rand Paul/Twitter]
——
>> Follow Evan McMurry (@evanmcmurry) on Twitter
Have a tip we should know? tips@mediaite.com