WSJ Editorial On Fatally Flawed Mitt Romney: 'Compromised And Not Credible'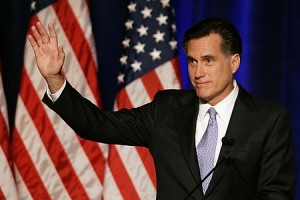 Today likely Republican presidential candidate Mitt Romney is giving a speech in Michigan to address his albatross: Romneycare. The universal healthcare bill he signed into law in Massachusetts and which served as a model for President Obama's similar plan, has long been believed to be a major hurdle for Romney in his bid to win the Republican nomination. And now an editorial from The Wall Street Journal suggests that hurdle is insurmountable.
The editorial eviscerates Romney, disputing not only his statements about the success of the healthcare program in Massachusetts, but also whether he has a basic understanding of how government works. The Wall Street Journal argues:
Mr. Romney now claims ObamaCare should be repealed, but his failure to explain his own role or admit any errors suggests serious flaws both in his candidacy and as a potential President. . . . Like Mr. Obama's reform, RomneyCare was predicated on the illusion that insurance would be less expensive if everyone were covered. Even if this theory were plausible, it is not true in Massachusetts today.
The rejection of Romney's candidacy continues as the newspaper believes Romney's experience with healthcare is a "fatal flaw" in his core argument that he knows how to revive the free market economy. In the final dismissal of Romney, the Journal concludes:
The debate over ObamaCare and the larger entitlement state may be the central question of the 2012 election. On that question, Mr. Romney is compromised and not credible. If he does not change his message, he might as well try to knock off Joe Biden and get on the Obama ticket.
With criticism like that from the conservative-minded Journal editorial board it looks like Romney's potential campaign might be in some serious trouble.
Check out the full editorial at the Wall Street Journal.
Have a tip we should know? tips@mediaite.com