WSJ Reporter: Hillary's 2016 'Family' Theme Will Suffer from Lewinsky 'Drama'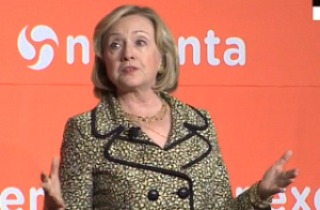 It's nearly universally accepted that should former Secretary of State Hillary Clinton run for president in 2016, the affair between her ex-president husband and Monica Lewinsky will be rehashed, especially now that Lewinsky is publicly speaking about it.
It's also nearly universally accepted that the icky details might hurt Clinton because they're embarrassing and nobody looks good when they're faced with embarrassing details from their past.Wall Street Journal White House reporter Peter Nicholas has another theory, though:
"Is this trouble for the Clintons? Could it complicate Hillary Clinton's likely presidential bid?" he asks in a Wednesday blog post at the Journal. "Yes — though not for reasons you might think."
Do tell!
Family will be a major theme in a Clinton presidential bid. She is advancing policy ideas aimed at fortifying families who are struggling in a tough economy.

With Ms. Lewinsky back on the scene, voters are inevitably reminded of the drama and stresses in Mrs. Clinton's own family.
According to Nicholas, it's not the embarrassment of the affair itself that will hurt Hillary. It's that family history that includes an extramarital affair is simply incompatible with a campaign centered on policies to financially advance other families.
That's like saying should Vice President Joe Biden decide to run in 2016, a campaign theme involving kids from broken homes own't work because his own son liked cocaine.
Nicholas' theory is a new one. A bad one, but new nonetheless.
The Lewinsky affair won't help Hillary. But — and this might be going out on a limb — she's probably okay to campaign on financially helping families if she wants to.
[Photo via screen grab]
— —
>> Follow Eddie Scarry (@eScarry) on Twitter
Have a tip we should know? tips@mediaite.com