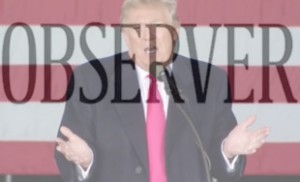 A week after New York Observer reporter Ross Barkin resigned his position following the paper's endorsement of Donald Trump, restaurant critic Joshua David Stein announced in an op-ed that he was also leaving the paper.
Stein wrote at The Guardian that he was perfectly fine writing at the paper when owner and Trump son-in-law Jared Kushner assured readers the paper would remain neutral. "And then, last week, the veil came off. It had, in truth, been slipping," he said.
"Taking money from and making money for a shill for Trump, Destroyer of Worlds, implicated me no matter how many self-justifying asanas I assumed…" he argued. "His danger lies not just in his policies – which, hitherto, had been rather moderate – but in his demagogic summoning of our worst angels… To stand with Trump is to stand with hate; what I ate, and what I thought about it, is small beer compared with that."
Even within his foodie column with the Observer, Stein has criticized Trump before. After Trump said in a speech that Mexico was "sending rapists" to the United States, Stein glowingly reviewed two of the city's best Mexican restaurants under the headline "What Mexico Sends." While never mentioning Trump by name, the last paragraph was not subtle:
When Mexico sends its people, it's sending Mr. Olvera, Ms. Sotto-Innes and Ms. Villegas. It's sending Mr. Andrade, who in turn inspires Mr. Meyer, who in turn makes an entire neighborhood buzz happily on a Friday night. It's sending the thousands of workers in both the front and back of house that make every meal one eats in New York City possible. They're sending people that have lots of poblanos and they're bringing those poblanos with them. They're bringing tclayudo. They're bringing tlacuyo, their arepas. And some, I assume, are good people, too.
——
>>Follow Alex Griswold (@HashtagGriswold) on Twitter
Have a tip we should know? tips@mediaite.com