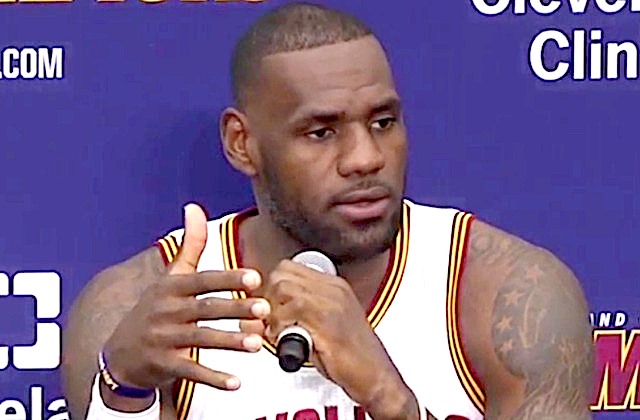 Game 2 of the NBA Finals between the Golden State Warriors and Cleveland Cavaliers takes place tonight, and here's hoping it will be a little more competitive than what we witnessed Thursday evening. Kevin Durant led the Dubs to a 113-91 victory with his 38 points, eight rebounds, and eight assists.
Steph Curry pitched in with 28 points and 10 assists and center Zaza Pachulia returned after missing the final two games of the Western Conference Finals, scoring eight points while snagging six boards.
For the Cavs, LeBron James poured in 28 points, 15 boards, and eight assists, but it just wasn't enough to overcome Golden State. Kevin Love added 15 points and 21 rebounds while Kyrie Irving scored 24 points on 10-of-22 shooting.
Golden State entered the Finals having run through their entire Western Conference playoff slate unblemished. They went a perfect 12-0 against their three opponents, Portland, Utah, and San Antonio. Stephen Curry, Kevin Durant and company have appeared to hit their stride at the right time.
The Cavs didn't fare badly in their own right. After struggling a bit in a four-game sweep of Indiana in the first round, Cleveland turned it on against Toronto and Boston. Though they did drop one against the Celtics, overall, Cleveland was superb in rounds two and three.
For the remarkable LeBron James, it is his seventh straight appearance in the NBA Finals. He's looking for his fourth ring, and a second consecutive victory over Golden State. But this one will be a tall order. Durant was still in Oklahoma City last season, and not yet a part of the Warriors.
Tip-off is scheduled for at 8:00 p.m. ET. ABC has the coverage. The game will also be streamed online, via WatchESPN, free with a cable subscription. The Watch ESPN app can be downloaded from Apple's App Store, and the Google Play Store.
[image via ShutterStock]
Have a tip we should know? tips@mediaite.com