LaVar Ball Says He's Pulled Son LiAngelo From UCLA Following Suspension Over Shoplifting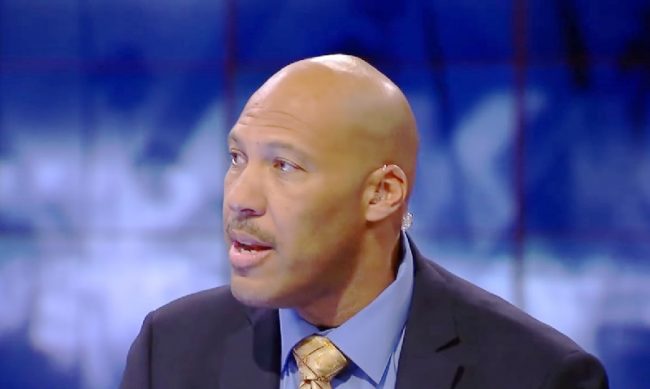 It looks like LiAngelo Ball will now be attending Big Baller Academy.
This afternoon, TMZ broke the story that the nation's most notorious sports dad, LaVar Ball, had pulled LiAngelo from UCLA. ESPN has since confirmed the story with LaVar Ball. This comes roughly a month after LiAngelo Ball, a freshman on the school's basketball team, was arrested with two other players in China for shoplifting.
The players were eventually released following President Donald Trump's visit to China. After the young athletes expressed gratitude to the president for intervening on their behalf, a feud quickly erupted between Trump and LaVar Ball, with the basketball father claiming Trump didn't do that much to secure the players' release and the president declaring that he should have left the athletes in jail.
Following the shoplifting incident, LiAngelo Ball has been serving an indefinite suspension at UCLA and hasn't been allowed to play, practice or travel with the team. In fact, he has yet to play one official minute for UCLA. According to the Los Angeles Times' Eric Sondheimer, LaVar Ball feels LiAngelo should have been cleared already and wasn't willing to wait any longer for UCLA to make a decision.
LaVar Ball said he will withdraw LiAngelo from UCLA and explore other other options. He said LaMelo still intends to go to UCLA. "I tried to let UCLA deal with the process and he should have been playing the next week."

— eric sondheimer (@latsondheimer) December 4, 2017
The bottom line: LaVar Ball was not willing to wait two months for LiAngelo to play and he didn't like him coming off the bench at UCLA. So off he goes.

— eric sondheimer (@latsondheimer) December 4, 2017
Meanwhile, in other Big Baller news, LaVar Ball has apparently sent the president some merch:
LaVar Ball on sending Trump shoes: "I sent three pairs of Big Ballers to 1600 Pennsylvania. One in red, one in white and one in blue to show we're patriotic."

— Darren Rovell (@darrenrovell) December 4, 2017
[image via screengrab]
—
Follow Justin Baragona on Twitter: @justinbaragona
Have a tip we should know? tips@mediaite.com