Megan Rapinoe's Girlfriend Sue Bird Writes Proud Op-Ed: 'So the President F*cking Hates My Girlfriend'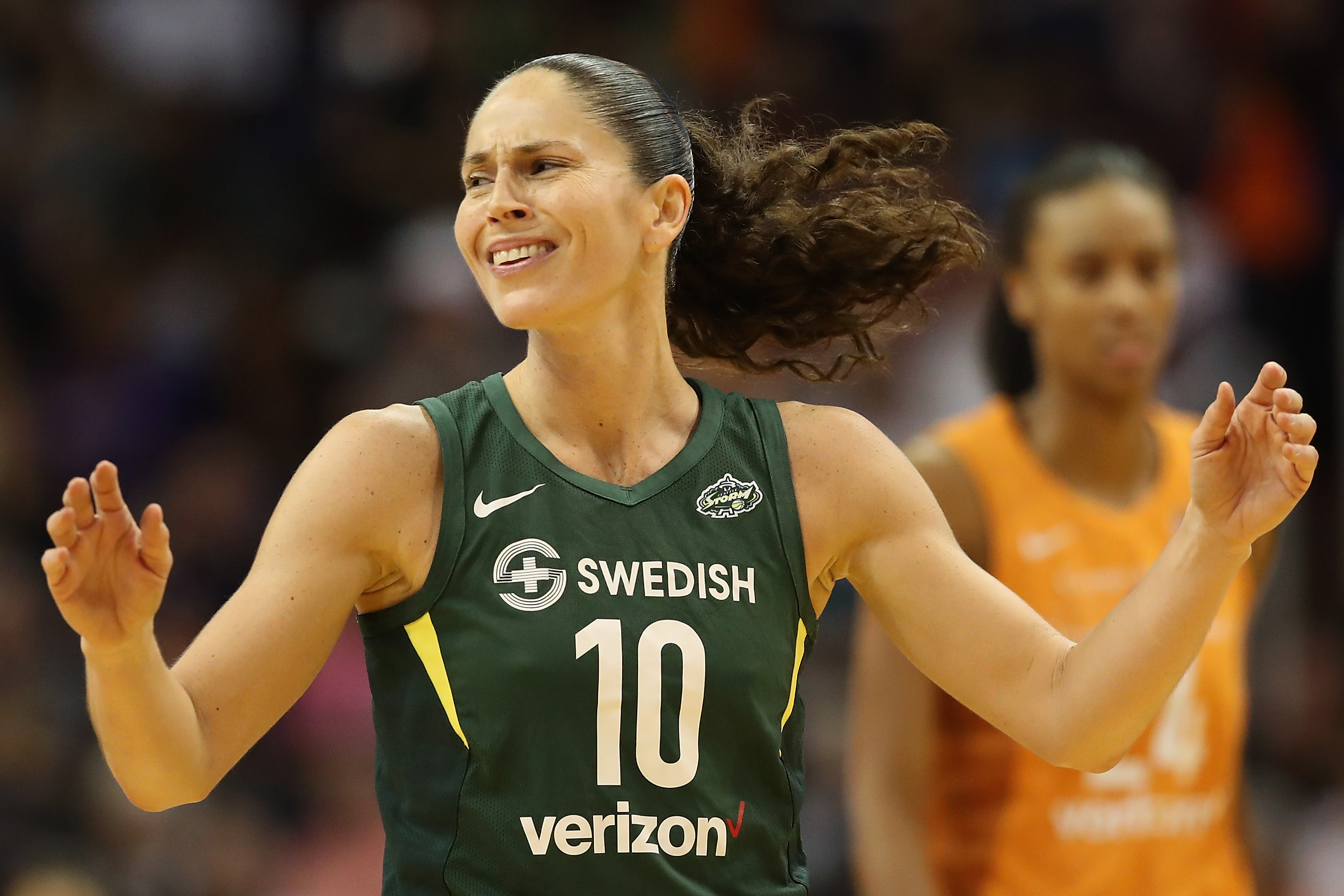 Sue Bird, WNBA star and girlfriend of Megan Rapinoe, penned a proud op-ed Tuesday — titled "So the President F*cking Hates My Girlfriend" — discussing everything from Rapinoe's pink hair, to her spars with the president, to soccer predictions.
"It would take the President of the United States going on a hate-filled Twitter spree trolling my girlfriend while she was putting American soccer, women's sports, equal pay, gay pride and TRUE LOVE on her back, all at once, scoring two majestic goals to lead Team USA to a thrilling victory over France and a place in the World Cup SEMIFINALS, for me to ever even think about writing again," Bird wrote for The Players' Tribune. "But I'm a woman of my word. So here I am."
Last week, Rapinoe said she would not go to the White House, even Team USA won the World Cup. President Donald Trump responded in a series of tweets, stating, "Megan should WIN first before she TALKS! Finish the job!"
Bird said the whole situation would be ridiculous to the point of laughter, if it wasn't so "gross."
"Now suddenly you've got all these MAGA peeps getting hostile in your mentions," she wrote of watching her girlfriend duke it out with the president publicly. "And you've got all these crazy blogs writing terrible things about this person you care so much about. And now they're doing takedowns of Megan on Fox News, and who knows whatever else. It's like an out-of-body experience, really."
Bird said that she and Rapinoe had similar politics, both severely critical of the president. Trump had invited Baylor 2019 national champs, coached by a white woman, to the White House but not 2017 South Carolina national champs, coached by a black woman, according to Bird.
She also chimed in on the equal pay debate: "If you're not on the right side of this fight, and advocating fiercely for equal pay — whether it's in soccer, or basketball, or in any other industry, and across every intersectional boundary — then I just straight-up feel bad for you. Because you're sad, and wrong, and going down," said Bird.
She said that Women's soccer team has been more profitable than men, despite the men still out-earning the women. She proudly spoke of watching "USWNT women stand up for themselves and (this seriously can't be stressed enough) crack a LAWSUIT over the heads of U.S. Soccer while they go out and grind for a freaking World Cup."
Bird called Rapinoe the "world's most kissable goofball queen" and praised her fight for both women and the LBTQ community.
Watching the women's team defeat France on Friday, Bird said, "I was happy. I was crazy. I was PROUD. I was pretending to know about soccer. I was a little overwhelmed. I was pretty damn American. And I was in love with Megan Rapinoe."
The U.S. Women's team faces England in the semifinals of the World Cup Tuesday at 3 p.m.
[Photo by Christian Petersen/Getty Images]
Have a tip we should know? tips@mediaite.com