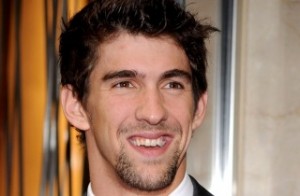 Michael Phelps won his 23rd Olympic medal this weekend, taking gold in the 4x100m freestyle. Almost as interesting, though, as his olympic career, is his diet. In 2008, he was eating a reported 12,000 calories per day, including a breakfast of three fried egg sandwiches with cheese, one five-egg omelet, a bowl of grits, french toast, and more, and a dinner that included an entire slice of pizza. Included. Meaning there were other things.
Yesterday, after finishing his race, Phelps refueled by eating a casual pound of pasta, according to Inside the Games. He said, "I tried to do as much as I could, get my lactate cleared, had a massage, had an ice bath, eat."
Some mornings I wake up like they do in the movies, peaceful and calm, and though I don't have a mirror in my bedroom, I imagine I am beautiful with a full face of makeup on. Those glorious mornings usually follow a dream where I am at a table with unlimited amounts of pasta. I keep eating the pasta, but as fast as I can eat it, more seems to appear as if from nowhere. That dream, as it turns out, is Michael Phelps' reality. But he doesn't deserve it, because he doesn't even like it. He told Inside the Games, "I think I had a pound of spaghetti and I am not a spaghtetti [sic] fan, I forced myself to eat it."
It's a lot of pasta but we're pretty sure we'd be up to the challenge. If it were a sport, we could probably take gold.
[H/T First We Feast, Insider]
Follow Dana Eisenberg on Twitter.
Have a tip we should know? tips@mediaite.com