'Never Forget': DraftKings Pilloried For Offering 9/11-Themed Betting Parlay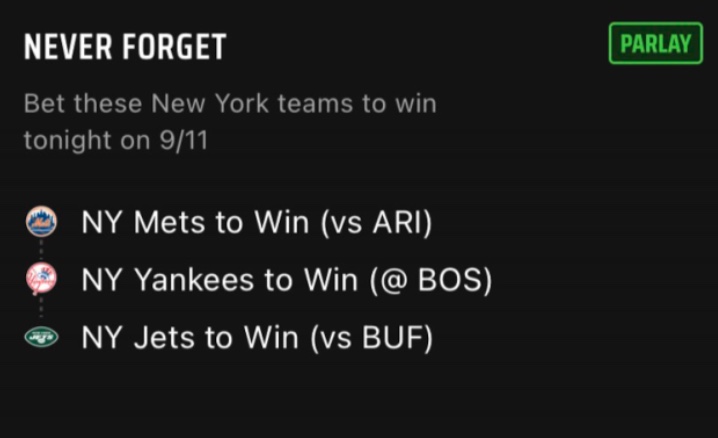 In one of the worst marketing decisions in recent memory, the sportsbook DraftKings offered bettors the chance to wager on a three-game parlay involving New York teams on the 22nd anniversary of the September 11, 2001 attacks.
DraftKings has since apologized for the boneheaded decision.
On Sunday and Monday, Twitter users flagged a promotion headlined, "NEVER FORGET," a phrase often associated with the attacks to commemorate those lost on that day. It continued, "Bet these New York teams to win tonight on 9/11. "
The slate, which has since been removed, featured the New York Mets, the New York Yankees, and the New York Jets. The payout offered is $651 for bettors who wager $100 on all three teams winning.
In a statement to the Boston Globe, DraftKings said it regrets the decision.
"We sincerely apologize for the featured parlay that was shared briefly in commemoration of 9/11," it read. "We respect the significance of this day for our country and especially for the families of those who were directly affected."
The publicly traded company subsequently tweeted its apology.
The New York Post noted that on top of everything else, the parlay's payout was subpar.
"Fair value calculates these three bets at +682 on FanDuel, so DraftKings is putting this pre-made parlay together at substantially worse odds, which was giving the fair market odds," the Post reported.
Nearly 3,000 people died on Sept. 11, 2001, when 19 terrorists hijacked four planes and crashed them into the World Trade Center in Manhattan, the Pentagon in northern Virginia, and a field in western Pennsylvania.
Have a tip we should know? tips@mediaite.com
Michael Luciano - Senior Editor