People Are Losing it Over Tom Brady's Super Villain Outfit: Looks Like a 'Overconfident European Assassin'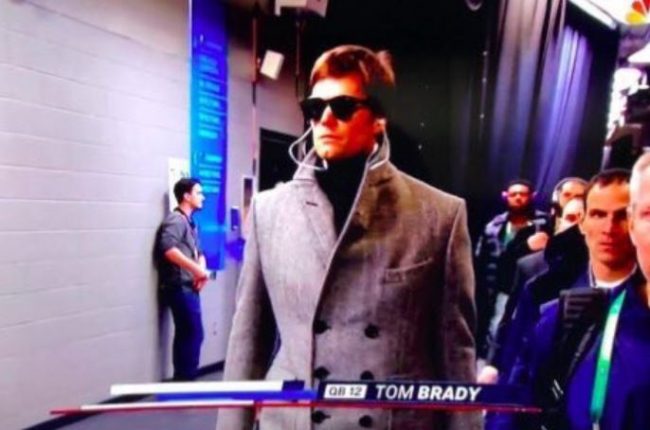 As New England Patriots quarterback Tom Brady walked into his eighth Super Bowl appearance today, he arrived at U.S. Bank Stadium in freezing Minneapolis, Minnesota wearing large, blacked-out sunglasses and a trench coat — a look that many fans compared to a super villain.
Brady and Patriots are the favorites as they face the Philadelphia Eagles in Super Bowl LII. Despite the odds being in favor of the Patriots, Brady still showed up to the game looking as intimidating as possible.
While Brady is notorious for his fashionable lifestyle, the dramatic bad-guy look was so over-the-top that it inspired countless memes on social media:
brady looks like the overconfident european assassin who dies in the last twenty minutes of an action movie pic.twitter.com/dXvX47xtxS

— Mina Kimes (@minakimes) February 4, 2018
Philly fans should appreciate how much Brady seems to be channeling Ivan Drago here. https://t.co/Fxhxz4Ff2A

— Shaun Scott (@eyesonthestorm) February 4, 2018
i can't be the only one who sees this pic.twitter.com/Yrsr2c7XC3

— Grant Brisbee (@mccoveychron) February 4, 2018
the fake melania was in fact tom brady in a wig: a conspiracy theory pic.twitter.com/uckyQXD8PW

— KT NELSON (@KrangTNelson) February 4, 2018
when you're really into touchdowns and killing Reed Richards pic.twitter.com/Wu3fqP8GDf

— Simon Maloy (@SimonMaloy) February 4, 2018
"Do you expect me to fly?"

"No, Mr. Eagle. I expect you to *die*." pic.twitter.com/BcvNMscVoJ

— pourmecoffee (@pourmecoffee) February 4, 2018
Tom Brady looks like he just dropped a sick West German techno-pop album pic.twitter.com/mkobYS0qKE

— John Noonan (@noonanjo) February 4, 2018
— Melissa Stetten (@MelissaStetten) February 4, 2018
Tom Brady looks like he moved to Berlin to kick a cocaine habit and work with Brian Eno pic.twitter.com/xI5lkrAMW8

— BUM CHILLUPS (@edsbs) February 4, 2018
*very obviously two kids in a trench coat*

"Hi, I'm grown up athlete and husband of Gisele Bundchen Tom Brady." pic.twitter.com/J0MK5MuwaH

— Ronan Farrow (@RonanFarrow) February 4, 2018
— Dave Itzkoff (@ditzkoff) February 4, 2018
[images via screengrab]
Follow the author on Twitter (@calebecarma).
Have a tip we should know? [email protected]