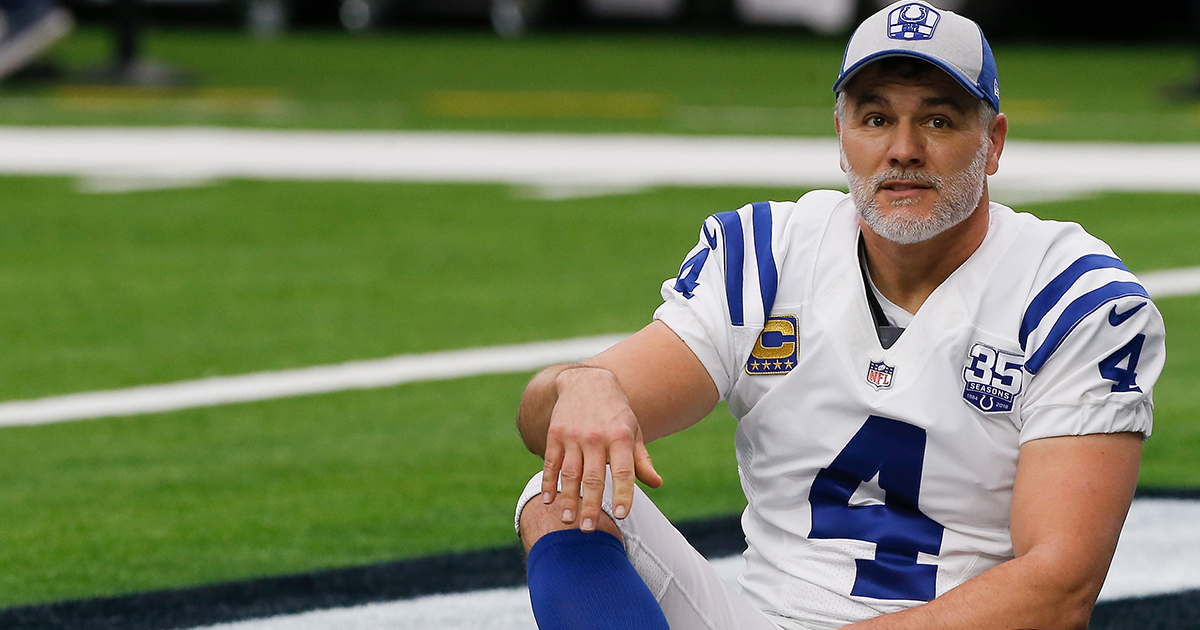 If age is just a number, then it must be #4.
That's not Santa, and it's not Burt Reynolds in the 2005 remake of "The Longest Yard" either. It's Adam Vinatieri, the 46-year-old player who just signed a one-year contract for what will be his 24th season in the NFL.
It was announced on Friday by Colts general manager Chris Ballard that a deal had been reached to bring Vinatieri back for yet another season with one of only two teams he's played for in 23 seasons. (The other team being the Patriots, who are in the Super Bowl again this year.)
Vinatieri is not only setting age records (4th all-time oldest player), he's also the all-time NFL points leader, holds the title for most Super Bowl appearances by a kicker (five), most field goals, and is the only player to have scored over a thousand points with two different teams.
Here he in December of last year.
In the interview with AM 1070 in Indianapolis where he announced the new deal, GM Ballard said that Vinatieri is an important guy to the Colts locker room.
"I don't know if I have been around a special teams player that has as much impact as Adam does in the locker room," said Ballard. "From a positive standpoint, all of our young guys that come in get to see Adam Vinatieri work, rehab, prepare his body every year, be a pro, handle the hard times, handle the good times. I mean all of that, what Adam brings, brings a lot of value to this team."
For his part, Vinatieri acknowledged before the end of the year that the clock is on his mind, even if time isn't up quite yet.
"There are no guarantees for any of us that there's a next day, a next year, anything. I've kind of always prepared myself thinking that way," he said. "There are no guarantees, and when you get to my age, you're absolutely right, your days are numbered."
But not yet. For now, the white-bearded kicker still has records to set, and another season to play. If we find out his secret to such athletic longevity, do not expect us to post it here. We're going to use it ourselves.
(Featured photo by Bob Levey/Getty Images)
Have a tip we should know? tips@mediaite.com