Twitter Reacts to NFL Star Michael Bennett Experiencing Police Brutality: 'Disgusting and Unjust'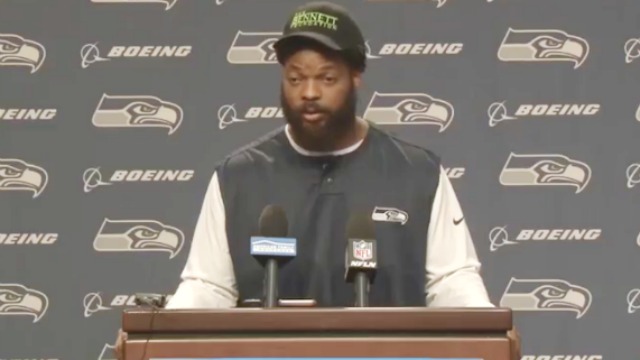 As the NFL's season officially kicks-off in just over 24 hours, a star player reporting an incident of police brutality is heating up an already politically embattled league.
Michael Bennett, a defensive end for the Seattle Seahawks, has long been an outspoken NFL player when it comes to racial politics in America, including vocally supporting former San Francisco 49ers quarterback Colin Kaepernick's national anthem protests. However, Kaepernick's police brutality protests became explicitly personal for Bennett after a recent encounter that took place in Las Vegas.
The NFL player posted a letter on Twitter describing an alleged incident in which two police officers muscled him to the floor and threatened to "blow [his] head off." The encounter took place during chaos in the street that ensued after the Mayweather vs. McGregor fight.
Equality. pic.twitter.com/NQ4pJt94AZ

— Michael Bennett (@mosesbread72) September 6, 2017
"The Officers' excessive use of force was unbearable. I felt helpless as I lay there on the ground handcuffed facing the real-life threat of being killed. All I could think of was "I'm going to die for no other reason than I am black and my skin color is somehow a threat," wrote Bennett.
The Las Vegas police department responded to Bennett, saying the investigation is on-going and asking Americans to reserve their judgement.
Reference a statement made by Michael Bennett, this case is under investigation. Reserve judgment. We will address this publicly today.

— LVMPD (@LVMPD) September 6, 2017
The Seahawks star's accusation toward officers sparked many on Twitter to debate the issue of excessive police force and its relation to the NFL — Kaepernick himself even chimed in:
This violation that happened against my Brother Michael Bennett is disgusting and unjust. I stand with Michael and I stand with the people. pic.twitter.com/TqXFiso6lk

— Colin Kaepernick (@Kaepernick7) September 6, 2017
Shut the fuck up forever if you think Michael Bennett did anything wrong. So quick to defend headass cops. It's disgusting.

— Alvin aqua Blanco (@Aqua174) September 6, 2017
The same white people who were appalled at the police treatment of the white nurse will ask what's the problem with Michael Bennett's arrest

— X (@XLNB) September 6, 2017
Vital that Michael Bennett, in alleging abuse, noted that celeb status helped free him. Poor, anonymous black guy might still be in custody.

— Phil Barber (@Skinny_Post) September 6, 2017
Lot of black athletes have had ugly run ins with police. We don't hear about them because it's scary to go public. @mosesbread72 is brave.

— Dave Zirin (@EdgeofSports) September 6, 2017
Damn, I wish there was a way @mosesbread72 could peacefully demonstrate against unequal treatment in America in front of a gigantic audience https://t.co/AVpRSnhizd

— Russ Zimmer (@RussZimmer) September 6, 2017
Michael Bennett was black man running from danger, in cops minds 1000000% that makes him a suspect over any other person in world.

— BlackSportsOnline (@BSO) September 6, 2017
Solidarity and support to Michael Bennett. Another day in America. It's all so familiar but it doesn't have to be acceptable.

— wikipedia brown (@eveewing) September 6, 2017
[image via screengrab]
Have a tip we should know? tips@mediaite.com