'Wanted Notorious Disgrace': Vendors Selling Shirts With Rifle Scopes Aimed at Kaepernick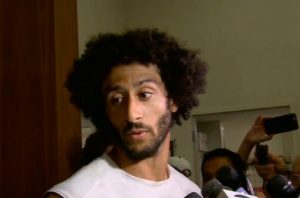 Today was San Francisco quarterback Colin Kaepernick's first start of the season after the team benched prior starter Blaine Gabbert and turned to the guy who led them to the Super Bowl a few short years ago.
Of course, Kaepernick has become more well-known over the last few weeks for his social activism, protesting police killings in the United States by refusing to stand during the national anthem. Since his demonstration first came to the public's attention, he's been at the center of a firestorm of controversy. At the same time, a number of other athletes have joined him in solidarity, either kneeling during the anthem or raising a fist.
With the 49ers playing in Buffalo, some vendors outside the stadium decided to use the anger many fans have towards the QB by selling some politically inflammatory T-shirts.
Shirts with a rifle scope trained on Colin Kaepernick selling for $10 outside of Ralph Wilson stadium. pic.twitter.com/bSuxF3G5qq

— Robert Klemko (@RobertKlemko) October 16, 2016
Also, some fans tailgating outside Ralph Wilson Stadium were tackling a dummy with an afro wig and a Kaep jersey.
Here's a very drunk Bills fan spearing a dummy with Kaepernick jersey and afro wig. pic.twitter.com/PDo0NL2Pcp

— Robert Klemko (@RobertKlemko) October 16, 2016
Bills fans scream "tackle the Muslim", then a young lady obliges. pic.twitter.com/A1eKcyWT87

— Robert Klemko (@RobertKlemko) October 16, 2016
Meanwhile, at the game, Kaepernick tossed a TD pass and threw for 135 yards in the first half.
[image via screengrab]
–
Follow Justin Baragona on Twitter: @justinbaragona
Have a tip we should know? tips@mediaite.com