WATCH: Bill Murray Tries to Convince UConn Head Coach To Rip His Shirt Off After Win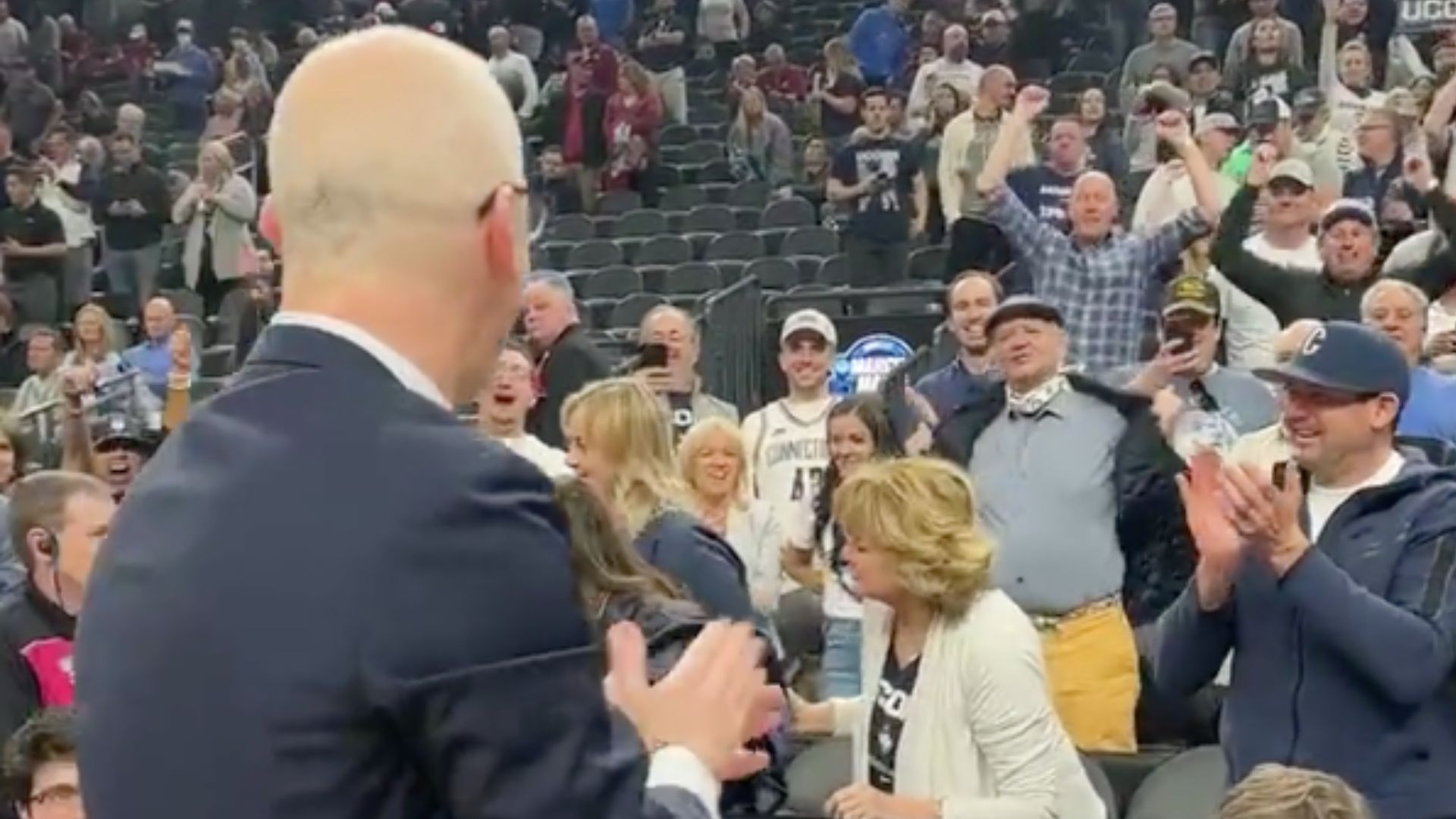 Bill Murray tried to convince the University of Connecticut head basketball coach Dan Hurley to rip his shirt off after their Sweet 16 win.
Following number four seed UConn's blowout 88-65 win over the University of Arkansas on Thursday night, Hurley walked along the floor to salute the Huskies' fans that traveled from Connecticut to Las Vegas to watch their game.
Murray was in attendance since his son, Luke, is an assistant coach on Hurley's staff.
So the Caddy Shack actor was seated a few rows off the court, and when UConn's head coach cheered on the fans, Murray flashed his vest like he was ripping it off as he looked at Hurley.
"Take your shirt off," someone in the section yelled.
Hurley ignored the proposal and continued walking down the floor to the many UConn fans cheering him and the rest of the players on.
Perhaps Murray was taking a not-so-subtle jab at Arkansas' head basketball coach Eric Musselman. After his team's upset win over number-one seed Kansas on Saturday, Musselman ripped off his shirt and stood on the courtside table to pump up his fans.
At a post-game press conference, Hurley addressed his team's Sweet 16 victory.
He said:
I thought, obviously, we just played pretty much exactly to our team identity. We played elite defense. Offensively the 22 assists, the inside, the outside, and rebounding dominance, and really where we are right now is exactly where we talked about where we would be when we got together.

After we lost the first-round game last year, we met in the boardroom; we sat together and said this is where we're going to be. We're exactly where we thought we would be. And obviously, we're thrilled to play one more to go to the Final Four.
Hurley and his UConn Huskies will face the number three seed Gonzaga University in the Elite Eight on Saturday in Las Vegas.
Watch above via @MarchMadnessMBB on Twitter.
Have a tip we should know? tips@mediaite.com
Luke Kane - Sports Reporter